Tankies awarded Afghanistan medals
Soldiers from the 2nd Royal Tank Regiment (2 RTR) who served in Helmand province in Afghanistan for six months over the winter received their Operation HERRICK medals at a parade on Saturday, 2 July 2011.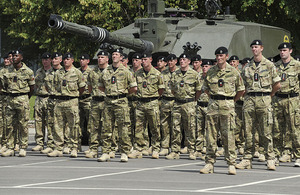 Each of the 300 'Tankies' had spent around six months on active duty between September 2010 and April 2011. The regiment played a vital role throughout the tour providing heavily armoured support to British infantry.
The soldiers were involved in fighting the insurgents, patrolling towns and villages, repairing schools, protecting vital road-building programmes linking Helmand's towns, mentoring the Afghan National Police and even guarding a rock concert.
The event was held in front of families and friends on the 2 RTR parade square at Aliwal Barracks, Tidworth. His Royal Highness The Duke of Gloucester presented the medals and congratulated the soldiers and their families on their achievements and perseverance.
During the parade, Corporal Alec Walton was awarded the Buck Kite Trophy - in memory of a highly decorated sergeant of the Second World War - for his invaluable contribution to the regiment, both in Afghanistan and in raising money for charity.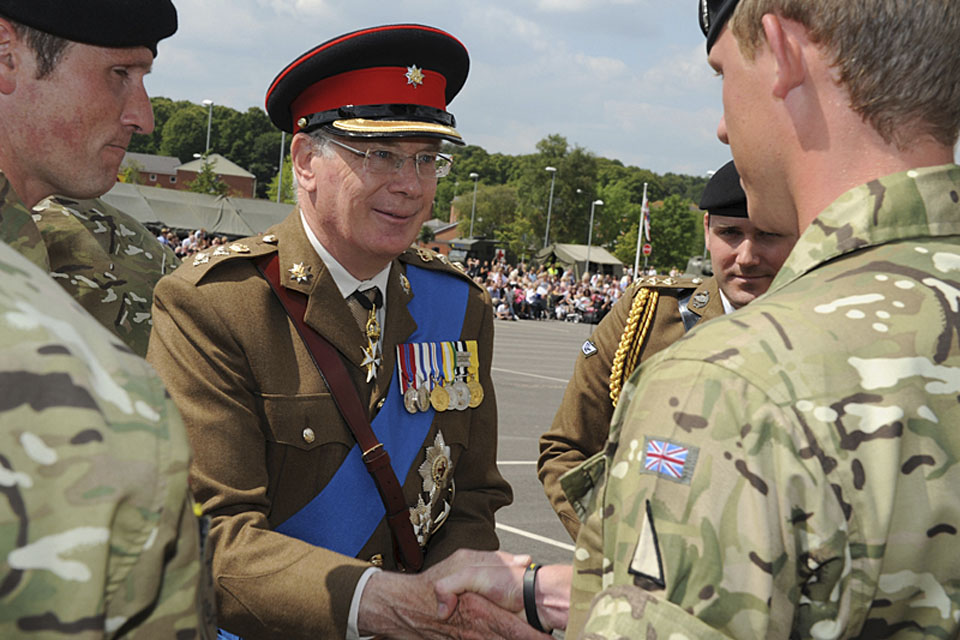 The Commanding Officer, Lieutenant Colonel Marcus Evans, said:
The 2nd Royal Tank Regiment, experts in mounted close combat, has returned from duty in Afghanistan.
This winter in Helmand the men and women of 2 RTR helped the Afghan Government reconnect with their people.
The Tankies provided armoured support to British troops and our friends in the Afghan National Police and Army. Together we protected the people of Afghanistan and aided them in building a better way of life.
It was a tough winter with harsh weather, a determined enemy and little time for rest. Despite this our soldiers have done an outstanding job and the Taliban are weakened.
We left Helmand knowing that we had helped to make progress; we saw new health clinics open, new roads and schools finished, and more communities reject the insurgents.
For our friends and families supporting us from the UK it was also a difficult, uncertain time and we are delighted to be celebrating our return with them at our Regimental Day on the 2nd of July.
Following the parade the soldiers hosted their families at a barbecue and an afternoon of carnival activities and military display stands showing what the Regiment has done in the past year.
Published 7 July 2011