Tank demo gives troops tactical insights
A full-scale attack by twelve Challenger 2 tanks has been underway - not on the front line but on Salisbury Plain for the Combined Arms Demonstration Day at Copehill Down.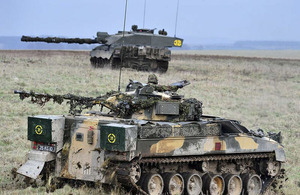 The demonstration saw tanks of the 2nd Royal Tank Regiment and numerous Warrior armoured vehicles deploying troops from 1st Battalion The Royal Regiment of Fusiliers.
The aim of the demonstration, watched by over 400 soldiers, was to enhance understanding of combined tactical actions across 1 Mechanized Brigade.
More than 30 armoured vehicles took part in the hour-long training exercise.
Published 25 January 2012