Talks between UK and Malawian Government Ministers
Foreign Secretary William Hague and a high-level delegation from the Malawian Government led by Foreign Minister Professor Peter Mutharika met for talks today.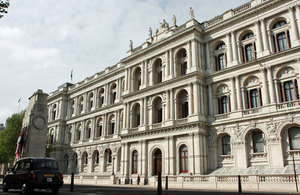 Minister for Africa Henry Bellingham and International Development Minister Stephen O'Brien also participated.
Speaking after the meeting a Foreign Office Spokesperson said:
"The Ministers discussed the normalisation of diplomatic relations between the UK and Malawi, and the deteriorating political and economic situation in Malawi.
"The Foreign Secretary made it clear that the current strain in diplomatic relations between the UK and Malawi was a direct consequence of the unwarranted and unjustified decision by the Malawian Government to expel the British High Commissioner, Mr Fergus Cochrane-Dyet, in April. He rejected the recent suggestion by the President of Malawi that Mr Cochrane-Dyet had not been expelled. He emphasised to the Malawian delegation that any further discussions on normalising the bilateral relationship would be fruitless if the Malawian Government did not accept responsibility for their decision to expel Mr Cochrane-Dyet.
"The Foreign Secretary and his colleagues also outlined the British Government's grave concern as to the economic and political situation in Malawi. They emphasised the need for the Government of Malawi to engage fully with the IMF and other donors in order to tackle the serious economic crisis. While the UK did not take a partisan position in Malawian politics, the Ministers underlined the need for the Government of Malawi to respect the rights of citizens and civil society organisations to assemble and speak freely. They condemned unreservedly the recent attacks on prominent opposition leaders and civil society activists, and urged the authorities to thoroughly investigate these incidents, particularly the death of Robert Chasowa, and bring those responsible to justice.
"The UK has indefinitely suspended the provision of General Budget Support to Malawi. This programme will remain suspended until the Government of Malawi addresses our concerns over economic management, governance and human rights.
"It was a constructive meeting. But the UK will now be looking for concrete progress in the coming weeks on the issues Ministers discussed."
Published 12 October 2011