Taliban bomb-making equipment seized
Afghan National Army and UK soldiers have seized a substantial amount of explosives and other bomb-making equipment in Afghanistan.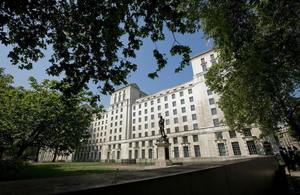 Afghan soldiers supported by UK soldiers from the Brigade Reconnaissance Force (BRF) discovered the weapons cache in the Hyderabad area of Helmand province. Items seized included 250kg of explosives as well as a large number of pressure plates and other bomb-making components.
Following intelligence reports that a mosque was being used as an improvised explosive device factory the Afghan and UK soldiers deployed by Chinook helicopter to cordon off and search the area.
The insurgents were caught off-guard, leaving behind their freshly-made tea and flip-flops in their bid to escape. The majority of the cache was found inside the mosque with the explosives already in containers ready to be used.
The military working dogs deployed with the BRF found multiple devices around the factory already in place and ready to be armed.
The skill of the pilots in landing so close to the objective and the speed of the Afghan troops when on the ground prevented the insurgents from arming them.
Major Dalby-Welsh, Light Dragoons, Officer Commanding the BRF, said:
This represents a real blow for the insurgency; this is a quarter-of-a-tonne of explosives which cannot be used against the Afghans or ISAF troops.

We were confident that we would find something but we didn't expect to find a cache of this size.
The explosives and detonators were destroyed on site, whilst a large amount of evidence was recovered and taken back to Camp Bastion for further analysis.
The BRF is Task Force Helmand's eyes and ears across the area of operations. It is currently made up of 13 units from across 12 Mechanized Brigade.
The main body is formed from the Norfolk-based Light Dragoons, together with troops from the Welsh Guards, 3rd Battalion The Yorkshire Regiment, 3rd Battalion The Rifles, 1st Battalion The Royal Welsh, 1st Battalion The Royal Anglian Regiment, 26 Engineer Regiment, the Grenadier Guards, the Royal Artillery, the Royal Corps of Signals, the Royal Military Police, the Intelligence Corps, and the Royal Electrical and Mechanical Engineers.
On missions such as this the BRF also works with an Explosive Ordnance Disposal Team as well as military working dogs.
Published 23 April 2012