News story
Taking a stand to end discrimination against those with mental health problems
Home Office pledges support to 'Time to Change' campaign to end the stigma of those suffering mental health problems.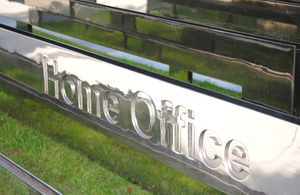 Home Secretary Theresa May and the Permanent Secretary Mark Sedwill have pledged the support of the Home Office in stamping out discrimination faced by people with mental health problems.
Permanent Secretary Mark Sedwill said:
I'm really proud that the Home Office is the 200th organisation to sign the Time to Change pledge.

I'm also proud that we have an excellent action plan to put into effect because that is what really matters.

Signing the pledge is a public commitment to put the Home Office at the forefront of employers throughout the United Kingdom to tackle mental health issues in the workplace.

It is essential that employees who have mental health problems receive the support they need, and that others know how they can reach out, help and support not just their colleagues within the workplace, but all those for whom we as a Department have that wider responsibility.
Signing the pledge
The 'Time to Change' campaign is a nationwide initiative that aims to increase mental health awareness across the country by asking businesses, local authorities and government departments to sign a pledge of support.
This public display of commitment demonstrates to staff, customers and the community that the Home Office is leading the way in addressing and challenging stigma and discrimination relating to mental health.
The Home Secretary and Permanent Secretary were joined at the signing of the pledge by Director of 'Time to Change' Sue Baker, Mary Calam the Home Office disability champion and Alvin Kofi MBE the chair of the Home Office disability support network.
Support for staff
The Home Office has drawn up an action plan on tackling mental health discrimination which includes:
training sessions for staff to help them feel confident in sharing their experiences of mental health problems;

facilitating a number of buddy networks for staff to support each other through the Home Office Disability Support Network (HODS) and;

the introduction of the 'Break the Stigma' support group for staff suffering from anxiety and depression.
The Department also has a Health and Wellbeing Strategy that will be implemented over the next three years which will help to ensure all employees understand their health and wellbeing matters.
Published 10 June 2014