News story
Take part in #LightsOut
4 August: Join DCMS and 14-18 NOW by marking the start of First World War through the #LightsOut campaign.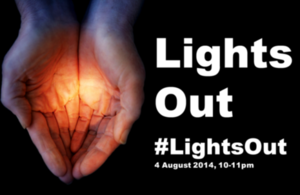 Everyone in the UK is invited to take part in #LightsOut by turning off their lights from 10pm to 11pm on Monday 4 August, leaving on a single light or candle for a shared moment of reflection on the 100 year anniversary of the First World War.
To spread the message of support, we have created an online Thunderclap across social media. Thunderclap is the first ever crowdspeaking platform that allows a single message to be mass-shared and you can now sign up to and automatically share your support for #LightsOut with DCMS and 14-18 NOW. By signing up, you will join hundreds of others sending out an automatic message to your friends on Twitter, Facebook or Tumblr at 3pm on Monday 4 August, showing your support for #LightsOut.
#LightsOut's inspiration stems from the then foreign secretary Sir Edward Grey's famous remark on the eve of the outbreak of the war. He said: "The lamps are going out all over Europe; we shall not see them lit again in our life-time". Britain declared war on Germany at 11pm on 4 August 1914.
Millions of people are expected to participate in #LightsOut and hundreds of local authorities, iconic buildings, national organisations including the BBC and Royal British Legions, parish councils and places of worship will also be getting involved. National landmarks buildings including Blackpool illuminations, the Houses of Parliament, Eden Project, the Imperial War Museums and Tower Bridge will also turn off their lights.
Get involved now by signing up to our Thunderclap.
Further information
#LightsOut moments in your area
Plans for the First World War Centenary please go to: http://bit.ly/FWWcentenary
About Thunderclap
Published 10 July 2014