Tackling the threat from weapons of mass destruction
Foreign Office Minister Lord Howell met Ambassador Ahmet Uzumcu Director General of the Organisation for the Prohibition of Chemical Weapons on 17 March.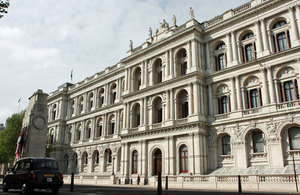 Speaking after the meeting Lord Howell said:
"The work done by the Organisation for the Prohibition of Chemical Weapons (OPCW) is vital for our National Security and I welcome Ambassador Uzumcu's visit to the UK.
"The UK fully supports the OPCW's efforts to oversee the destruction of all remaining stockpiles of chemical weapons, to prevent States from acquiring this destructive technology and to help countries to prepare to respond to an attack.
"We discussed a range of important issues including the OPCW's ongoing efforts to monitor stockpiles in Libya. The organisation is doing a vital job in this regard and has our full support.
"We also discussed 2011 is the International Year of Chemistry, and the Ambassador's speech on Thursday evening at the Royal Society of Chemistry.
Published 17 March 2011