Tackling neighbours from hell
A new tool for communities Communities will now have a new way to combat the neighbours from hell who ruin neighbourhoods and cause misery …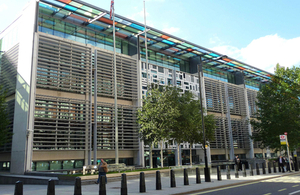 A new tool for communities
Communities will now have a new way to combat the neighbours from hell who ruin neighbourhoods and cause misery for fellow tenants, Housing Minister Grant Shapps announced today.
Landlord-led approach
For the first time, social landlords will be able to present their evidence in court through a new type of statement, which clearly sets out the harmful impact of anti-social behaviour on the community.
Mr Shapps said the new court statements will help landlords end the agony of tenants who have suffered cruel and nasty behaviour from neighbours, and have endured living alongside the perpetrators for months or even years before they can be evicted.
Today's move will help landlords present a stronger case in court by enabling them to exhibit the impact of anti-social behaviour on the entire community, not just individuals. It comes ahead of new measures to tackle anti-social behaviour and strengthen the hand of landlords that will soon be announced by the Government.
Successful pilots completed
Over the last six months the new tool, developed by the sector with Government funding, has been piloted by 11 landlords across the country, and has already proved successful in 21 court cases where it has been vital in assessing the harmful impact of anti-social behaviour.
Housing Minister Grant Shapps said:
For years too many social tenants have lived in fear of anti-social behaviour, with the added insult that these neighbours from hell are getting away with it. They've been forced to live alongside their tormentors, while action to evict the perpetrators gets endlessly bogged down in court.

So I'm delighted to announce today that, with the help of funding from the Government, the sector has been able to develop a new tool that will help them show the courts how this behaviour by a nasty and vicious minority can impact the lives of the entire community.

These new statements have already proved their mettle in court, with landlords confident that judges are taking them seriously. So I would encourage all landlords to make these statements part of their toolkit for tackling anti-social behaviour, and reclaim the streets from the disruptive thugs who think they can make everyone else's lives a misery.
The new court statements have been developed following close cooperation between social landlords and the Anti-Social Behaviour Action Team, which is based at the Chartered Institute of Housing and funded by the Department for Communities and Local Government.
Notes to editors
1. The new statements have already been used by 11 pilot landlords in 21 cases court cases. They provide a summary of evidence that can help barristers answer judges' questions about complex cases, and the harmful impact on the community and local resources.
2. The pilot organisations included in the trials were: Community Gateway Association, Gloucester City Homes, Helena Partnerships, Kettering Borough Council, Solihull Community Housing, South Essex Homes/SMAART, Sovereign, Stockport Homes, Taunton Deane Borough Council, TOR Homes, Viridian Housing.
Twitter
Keep up to date with the Department by following us on Twitter (external link).
Media enquiries
Visit our newsroom contacts page for media enquiry contact details.
Published 16 March 2012