World news story
Tackling Ebola in the DRC
The UK supports the Congolese government to tackle Ebola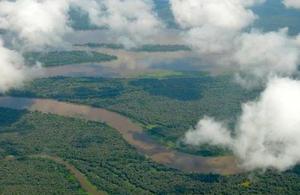 The UK Foreign and Development Secretaries co-hosted a Defeating Ebola Conference in London on 2 October with President Koroma of Sierra Leone, to urge international partners to step up their efforts immediately. The conference rallied support to get countries and other international donors to pledge beds, medical staff and money to help end Ebola in Sierra Leone.
The UK Government is not just responding to the Ebola outbreak in Sierra Leone, we continue to provide a high level of response to the current, and separate Ebola outbreak in other countries, including the Democratic Republic of Congo (DRC).
The Government of DRC is using its wide expertise to address the Ebola outbreak and is leading the overall response, working closely with other partners to ensure a co-ordinated response by different actors. The UK is supporting this co-ordinated response through a number of funding mechanisms and partners.
Through its support to the MSF Pool d'Urgence Congo funds have been provided to establish isolation centres and ensure teams of technicians and necessary materials are on the ground, treating patients and undertaking epidemiological surveillance.
Getting to Boende, the landlocked area where the Ebola outbreak is currently located is a challenge. The UK supports the UN Humanitarian Aviation Services to transport the medical staff and medicine to places that are so remote they can't rapidly be accessed by road or by boat.
Through the Common Humanitarian Fund, managed jointly by UNOCHA and UNDP, the World Food Programme is receiving UK funds to provide food to the population quarantined in the affected areas and funding has been provided to UNICEF to scale up information on Ebola in the affected areas
The current UK aid Access to Primary Healthcare programme implemented by IMA World Health and other local NGOs, is also involved in the response to the epidemic and will develop a media campaign to sensitise the population on the rights behaviours to block the spreading of the disease.
The UK continues to monitor the situation in the affected areas and the progress of the overall response.
Published 3 October 2014