Press release
Tackling alcohol-related crime and anti-social behaviour: Minister supports work of Newquay safe partnership
Minister for Crime Prevention James Brokenshire sees the success of anti-social behaviour and alcohol-related crime measures in Newquay.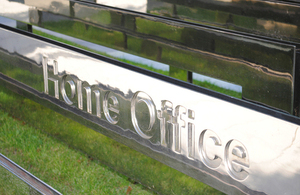 The minister met with local representatives from the Newquay safe partnership during a walk around pubs and bars in Newquay town centre to see first-hand the problems and successes they have had tackling under-age drinking and anti-social behaviour.
The visit coincides with a six week public consultation on a range of options to overhaul the Licensing Act, giving greater powers to local communities and taking tougher action on problem premises.
Measures for consultation include:
making it easier for communities to have their say on local licensing by allowing local authorities to consider the views of the wider community, not just those living close to premises
taking tough action against underage drinking by doubling the fine to £20,000 for those found persistently selling alcohol to children, extending orders that see premises closed on a voluntary basis to a minimum of seven days and bringing in automatic licence reviews for these problem premises - which can see licences revoked
charging a fee for late-night licences to pay for the cost of extra policing and scrapping ineffective, bureaucratic and unpopular alcohol disorder zones
ensuring policing and health concerns are fully considered so that the impact of licensing on crime and disorder or public health can be fully taken into account when assessing licence applications
increasing licence fees so that local councils can cover costs linked to enforcement leaving premises to pay rather than the local taxpayer
tightening up rules for temporary licences by limiting the number of 'temporary event notices' that can be applied for in any one year. These are often used to get around the restrictions of applying for a permanent licence
introducing a ban on the sale of below cost alcohol and consulting on how this can be achieved.
Statement by the crime prevention minister
Minister for Crime Prevention James Brokenshire said: 'We are concerned about the number of alcohol-related incidents and the drink-fuelled crime and disorder that blights many of our towns and cities.
'The majority of pubs and bars are well run businesses but the government believes the system needs to be rebalanced in favour of the local communities they serve, with tougher action to crack down on the small number of premises who cause problems.
'I am really encouraged to see how Newquay safe partnership is leading the way and working with the community to address the issues that really matter to local people. In doing so they are helping make the area a safer and more enjoyable place to be.'
Newquay experienced 'a number of issues'
Lance Kennedy, Cornwall Council cabinet member and Newquay safe partnership member, said: 'Our partnership brings together over 20 organisations that have been working hard to help Newquay evolve as a safe and enjoyable place to live and visit.
'Newquay has experienced a number of issues including binge drinking, young people holidaying in groups without their parents and people buying alcohol for under 18s.
'The partnership is now seeing some real successes and we are pleased that the minister has chosen to come to Newquay to see the problems we are facing and how we are dealing with them.'
Notes to editors 
The government's public consultation will run for six weeks and seeks views on a range of proposals to tackle alcohol related crime and disorder. Find out more about the consultation paper Rebalancing the Licensing Act - a consultation on empowering individuals, families and local communities to shape and determine local licensing.
The government's coalition programme includes the following commitments:
we will ban the sale of alcohol below cost price
we will review alcohol taxation and pricing to ensure it tackles binge drinking without unfairly penalising responsible drinkers, pubs and important local industries
we will overhaul the Licensing Act to give local authorities and the police much stronger powers to remove licences from, or refuse to grant licences to, any premises that are causing problems
we will allow councils and the police to shut down permanently any shop or bar found persistently selling alcohol to children
we will double the maximum fine for under-age alcohol sales to £20,000
we will permit local councils to charge more for late-night licences to pay for additional policing.
More details can be found on the programme for government website.
During the visit James Brokenshire met with key representatives from Newquay safe partnership including:
Gill Steward, Cornwall Council director for communities
Chief Superintendant Elaine Marshall
Lance Kennedy, Cornwall Council cabinet member for community safety and neighbourhoods
Rob Andrew, Cornwall Council localism area manager and joint Newquay safe project manager
Superintendent Julie Whitmarsh, joint Newquay safe project manager.
Information about the Newquay safe partnership and the work that is taking place in Newquay is available on the Cornwall Council website. 
For more details please call the Home Office newsdesk on 020 7035 3535. 
Published 29 July 2010