TA soldiers take to the hills for Exercise Scottish Buzzard
Known as 'The Fighting 51st', the brigade is the regional administrative formation responsible for all Territorial Army units based in Scotland…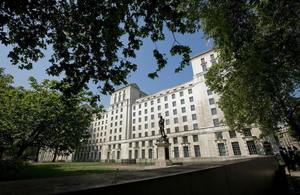 Known as 'The Fighting 51st', the brigade is the regional administrative formation responsible for all Territorial Army units based in Scotland.
Lieutenant Colonel Charlie Platt, Commanding Officer of 6th Battalion The Royal Regiment of Scotland (6 SCOTS), explained the aim of the exercise:
Exercise Scottish Buzzard provides the TA infantrymen of 6 SCOTS with a realistic and challenging training environment to prepare our TA soldiers for operations in Afghanistan.

The Jocks are training alongside Army specialists such as engineers, artillery and medics who routinely support the infantry on operations.
Commanding Officer of 71 Engineer Regiment (Volunteers), Lieutenant Colonel Nigel Cribb, continued:
My regiment is providing combat support engineering to the exercise. We have been rehearsing counter-IED drills, bridge construction and minefield extraction.

The regiment have constructed a forward operating base [FOB] at Dalbeattie from which the 6 SCOTS Battle Group is operating. The FOB is similar to the type used in Helmand province, Afghanistan.
The training here at Dalbeattie is vital for the mobilisation and deployment of TA soldiers for Afghanistan.
Lieutenant Colonel James Galloway, Commanding Officer of the Scottish Transport Regiment Royal Logistic Corps (Volunteers), has been leading his regiment on the exercise as they practise the deployment and execution of combat logistic patrols - making sure that all types of supplies and equipment get to the right place at the right time:
This is one of the roles that the TA are currently supporting on operations in Afghanistan alongside the regular Army," Lt Col Galloway said.

The Scottish Transport Regiment has deployed 256 personnel on operations since 2003, and currently have 30 personnel in Cyprus on United Nations duty.
The Commanding Officer of 225 General Support Medical Regiment (Volunteers), Lieutenant Colonel Richard Chadwick, concluded by saying:
We have been honing our military and medical skills at Dalbeattie as well as providing medical cover for all the units participating in Exercise Scottish Buzzard.
The Dumfries and Galloway area has been said to be especially important for training by the British Army due to its similarity in terms of terrain and remoteness to current operations in Afghanistan.
Published 15 September 2010