TA soldiers prepare for Afghanistan
Exercise Scottish Buzzard has recently taken place in Scotland to prepare the Territorial Army (TA) soldiers of 'The Fighting 51st' for future deployment on operations in Afghanistan.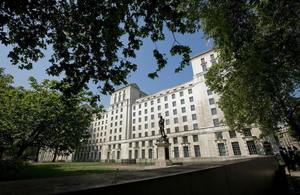 The exercise involved the deployment of 600 troops and 100 vehicles drawn from units of 51 (Scottish) Brigade and was designed to practise units in co-ordinated movement and tactical training.
Activities took place all over Dumfries and Galloway, including MOD West Freugh, the MOD range at Dundrennan near Kirkcudbright, the Galloway Forest, and Edingham Castle Works near Dalbeattie. During the exercise there was extensive transport movement throughout the area along with the deployment of ground troops.
Thereafter the battle group made a controlled convoy move to Dalbeattie in the early hours of the morning.
Commanding Officer of the 7th Battalion The Royal Regiment of Scotland (7 SCOTS) Battle Group, Lieutenant Colonel Ed Chelsea, explained:
7 SCOTS have been working with 6 SCOTS [6th Battalion The Royal Regiment of Scotland] soldiers as the lead unit for Exercise Scottish Buzzard. The Jocks have a broad spread of skill levels and experience, and this is a fantastic opportunity for them to take part in some realistic and challenging training.

Some of them have only recently completed their initial recruit training and are developing their experience of soldiering; others are preparing for overseas deployment next September. The message is clear: the TA is active and can provide challenge and reward!
The exercise continued at Edingham Castle Works near Dalbeattie when 400 troops, with extensive use of blank ammunition and pyrotechnics, created a battle simulation which included infantry close combat, compound and route clearance, and casualty evacuation.
Commanding Officer of 71 Engineer Regiment (Volunteers), Lieutenant Colonel Nigel Cribb, said:
My regiment has been training throughout the year to provide combat engineering support to both deployed forces on Operation HERRICK 15 [Afghanistan] and 51 Brigade's exercise.

The regiment currently has a cohort in Germany training with 35 Engineer Regiment, and the remaining combat engineers are based in Kirkcudbright for the duration of Scottish Buzzard.

The combat engineering troops have been delivering mobility and survivability support operating with the infantry battle group.
Lieutenant Colonel Richard Chadwick, Commanding Officer of 225 (Scottish) Medical Regiment (Volunteers), concluded:
My regiment conducted a two-week camp to refresh our medical skills to participate in the brigade exercise.

We undertook a Team Medics Cadre for our combat medical technicians and a Battlefield Advanced Trauma Life Support Cadre for our clinicians which revised the skills we require to deal with the varying levels of battlefield trauma.

These skills were then practised when our personnel were integrated into the combat and combat support units of 51 (Scottish) Brigade.
During the exercise, the Secretary of State for Scotland, Michael Moore, arrived at MOD West Freugh on a fact-finding visit. And on the final day Major General The Duke of Westminster visited in his capacity as Deputy Commander Army Reserves.
A number of employers also visited their TA employees taking part in the exercise.
Published 21 September 2011