TA soldiers get operational training boost
A fresh approach to training is ensuring that part-time soldiers are equipped with the same skills as their Regular colleagues.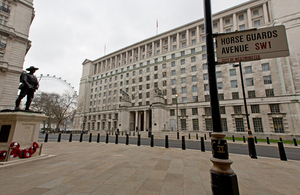 Territorial Army personnel keen to deploy on Op HERRICK must now pass through the intensive Afghan Tiger exercise, which comprises assessments on basic military drills and live firing.
As instruction on the misty ranges of Warcop training area got underway for the second batch of troops to take the course, Major Ben Jesty of the Grenadier Guards, who oversees training at The London Regiment, said the new initiative would better prepare his reservists for attending the Reinforcements Training and Mobilisation Centre prior to deployment on operations:
This is the first time these recruits will have trained to this level," the officer explained at the north Pennines facility.
By the time they get to the next stage at Chilwell, they will be completely up to speed with all the necessary drills and therefore should not fail.
During the rigorous two-week serial on the Cumbrian hills and wilds of Wathgill military area participants cover 65 essential training objectives.
The challenging drills - many of which will be new to part-time personnel - include honing techniques on weapons, navigational tests and fitness appraisals:
This isn't a pass or fail exercise, but it gives us an idea of the standards people are at, so we can give individuals feedback on things to work at," said Major Jesty.
Hopefully all those coming through Afghan Tiger now will end up on HERRICK 17, operating in the same roles as their Regular colleagues.
The London Regiment is currently overseeing the package ahead of its own personnel joining the Scots Guards on operational duty in October:
I haven't been on tour before, but I think this is good preparation for deploying," commented Lieutenant Matt Jones, after laying down fire with his SA80.
The 23-year-old, who currently works for a technology company, added:
The exercise's exact purpose is to close any gap between Regulars and Reserves. There's no reason why TA soldiers can't work to the same level.
Fusilier George Young conceded there was much to learn over the fortnight:
Shooting from different positions while on the move is new to me so this will better prepare me," he said.
Getting out on operations was the major reason I joined the Army and I can't imagine the training being any better as I think it covers everything.
Under recommendations set out in the Future Reserves 2020 report, the Service's volunteers are set to total 30,000.
But as demonstrated during the premobilisation event, part-time personnel are already evolving to form a diverse machine with depth of experience - including that of former full-time soldiers.
After a 23-year career with the Irish Guards, Corporal Anthony Farrelly, Royal Electrical and Mechanical Engineers, decided he had not quite finished with Army life and rejoined as a Reservist:
I left when my service ended, but then after six months as a civilian I came back," said the veteran of Northern Ireland and Iraq.
I missed the banter and there's a different type of honesty and loyalty in the military that you don't get outside.
The 44-year-old now hopes to join his son, Lance Bombadier Ashley Farrelly, Royal Artillery, on HERRICK 17:
It is what he wanted to do and is what I am used to and love," explained the ex-Regular soldier.
There is even a chance that our paths will cross while out there.
I joined up to see the world and test myself and my reasons now are exactly the same," he added.
Lance Corporal Natalie Gardener, Royal Logistic Corps, explained how the opportunity was giving participants valuable extra training time:
As Reservists I think we have the necessary skills but we just want chances like this to practise them," the hospital physiotherapist said.
As long as you show yourself as hardworking, up to the job and switched on then integration will work.
She continued:
There's always going to be a kind of barrier between Regulars and TA soldiers, but that exists even between sections - there will forever be competitiveness because that's what the Army is about.
Using the same weapons, techniques, tactics and procedures as their colleagues, Territorials will arrive in Helmand ready to fight with a common purpose:
Volunteers will soon be indistinguishable from the rest of our Service personnel," Major Jesty insisted.