TA soldiers attend church service ahead of Afghan deployment
Soldiers from the Royal Mercian and Lancastrian Yeomanry gathered with family and friends at the weekend for a church service ahead of their deployment to Afghanistan.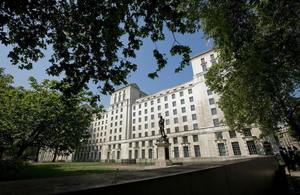 36 soldiers from the Territorial Army (TA) regiment are deploying to Afghanistan this week - the regiment's largest operational deployment since 1992.
Their role whilst deployed will be base surveillance at the forward operating bases. It will be their responsibility to monitor and evaluate the information they gather from the surrounding areas to help provide situational awareness and ground surveillance for the commanders and troops out on the ground.
The soldiers are part of a range of ISTAR (Intelligence, Surveillance, Target Acquisition and Reconnaissance) assets currently deployed in Afghanistan which include ISTAR aircraft used by the RAF to gather intelligence from the sky. The aircraft are used to capture images on the ground in order to detect insurgent activity and spot potential IEDs.
Other ISTAR capabilities include the Desert Hawk, a remote-controlled surveillance aircraft which records video day and night, sending the footage directly to troops on the ground and providing vital surveillance capability for the front line.
The pre-deployment church service at Venning Barracks, Donnington, near Telford, was led by the regimental padre the Reverend Stephen Pratt. He said:
It was the soldiers themselves that suggested we had a church service before they deployed. The service was a chance for us to show our regimental support to the families and the soldiers themselves so they know whilst they are away we are thinking of them and they will be in our prayers.
The regiment has five squadrons based in Dudley, Telford, Chester, Wigan and Hereford.
Trooper Ken Davies, aged 40, from Wolverhampton, is a lorry driver in his civilian life. He said:
We've had twelve months to prepare for the tour. The training has been excellent and the kit we have been issued with has been phenomenal. It's just superb.
All TA soldiers receive £3,000 worth of kit, including essentials such as anti-microbial underwear, socks, knee pads and head lights.
He continued:
I'm OK with going, just a bit apprehensive about what will happen when we get out there. I'll miss my family and of course Christmas won't be the same, but it is something I want to do.
Staying at home will be wife Vikki and children Emma, 13, Charlotte, 16, Adam, 17, and Jamie, 22. Vikki said:
I'm all right at the moment; I try not to think about it. I'll just take each day as it comes. It's been nice to attend the service and meet other families. I just want them all to keep safe.
Lance Corporal Patel Delesh from Dudley said his family and friends were sad to see him go but were a hundred per cent behind him:
It's my first tour; I wanted a challenge and I'm feeling great about it. I'm 23 - I wanted life experience and to do my bit for my country. All I've learnt I'll go out and put into practice. I'm looking forward to it. I don't tend to look back or think about what I'll miss about home, there's no point, you need to look forward otherwise you are always one step behind.
Regimental Welfare Officer, Captain Neil Trevor, said:
The overriding emotions for the soldiers are excitement and apprehension. They are leaving friends and family behind which is never easy, but they are well prepared and will deliver what is asked of them. We wish them all a good tour and look forward to welcoming them safely home.
Published 10 November 2010