TA nurse engages with Afghan women
A mother who usually works as a paediatric nurse at Tayside Children's Hospital in Dundee is spending six months working on the front line in Afghanistan's Helmand province.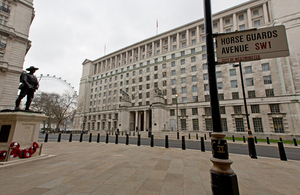 Territorial Army (TA) soldier, Captain Lisa Irwin, aged 42, has deployed with 16 Air Assault Brigade as a Female Engagement Team commander.
Her task is to engage with Afghan women in order to gain their trust and help them, and so that they may in turn influence their male relatives. Cultural norms in Afghanistan mean that male soldiers are unable to engage with Afghan women, so Captain Irwin plays a crucial role.
As a Female Engagement Team commander, she sometimes works as an individual and sometimes enlists the help of other female soldiers deployed in Helmand to assist with her work. Captain Irwin said:
In the past, British forces have not been able to engage with Afghan women, which has meant that we have not been communicating with 50 per cent of the population. My role enables us to engage with women, help them, and directly advise and influence them.

My civilian qualifications and experience enable me to bring lots of different strands to the role and the job is constantly varied and interesting. I am able to get out on the ground, meet the people of Helmand province and, hopefully, ultimately make a difference.
Recently, Captain Irwin participated in a three-day operation which involved her and other troops being inserted into an area by helicopter under cover of darkness, searching compounds and patrolling the area. She explained:
I speak a small amount of Pashto, the local language, and was therefore able to have limited conversations. I managed to engage with 22 Afghan women.

I am also participating in a health initiative where we train local health professionals and teachers about health education so that they can then train others. My role necessitates me moving all around our area of operations and regularly patrolling with the guys in order to be able to meet local women.
This is Captain Irwin's second tour of Afghanistan - and she is nothing if not versatile. On her previous tour, in 2008, she worked as a senior mechanic in an HGV [Heavy Goods Vehicle] repair workshop, fixing and maintaining vehicles.
Captain Irwin joined the Territorial Army in 1986 but only commissioned as an officer earlier this year, having previously worked her way up through the non-commissioned ranks. Her TA career has also seen her serve abroad in Belize, as well as carry out duties around the UK. She added:
I would like to say thanks to everyone at home for their support - especially my wonderful parents who have stepped up to care for my children whilst I am away. Without the support of my family none of this would be possible. Being away from them is without doubt the most difficult aspect of the tour.
Captain Irwin writes regularly on the official British Army blog site - see Related Links.