TA medics return from Afghanistan
Territorial Army (TA) medics from the North East have returned home from an Afghanistan deployment working in one of the world's busiest trauma hospitals.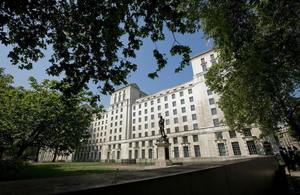 Around 50 members of 201 Field Hospital returned to the unit's headquarters in Fenham Barracks, Newcastle-upon-Tyne, where they were reunited with family and friends at an emotional homecoming party.
For the last three months they have treated over 1,000 injured troops and civilians at the British military hospital in Camp Bastion.
In their civilian roles, the medics are predominantly employed day-to-day by the NHS and other healthcare organisations across the North East.
The Commanding Officer, Colonel Sharon McDowell, said she was extremely proud of the men and women returning from nearly four months' service, adding:
Everybody has done an outstanding job, and has absolutely done the North East proud. Some of what we have had to deal with out there, and the sights we have seen, you could only but imagine.
It was a tremendous privilege and opportunity for 201 Field Hospital to work with our Service people, both men and women, when they are at their most vulnerable.
They are a long way from home and when they are tragically injured or ill they need people to care for them.
We were able to do that; we provided first-class, excellent standards of care throughout our operational deployment.
Paramedic Sean Storey, aged 37, from Denton Burn in Newcastle, acted as a medical technician in the casualty department of Camp Bastion Hospital.
He was reunited with wife Carole and 20-month-old daughter Kayla at the homecoming:
It was mixed emotions from us leaving to coming home but it's great to be back," he said.
We have had some highs and lows; it's about giving the troops on the ground the best care possible.
It was my second time in Afghanistan, and the facilities have greatly improved since the unit was last there in 2007. It was a tented facility back then and now it's hard-standing.
201 (Northern) Field Hospital is one of eleven TA field hospitals in the British Army.
It has centres in Newcastle-upon-Tyne, Newton Aycliffe, and at Norton near Stockton-on-Tees.
Published 4 May 2012