Syria: Food and shelter for tens of thousands of families
Prime Minister David Cameron pledges new emergency support for Syrians facing a winter of continued fighting.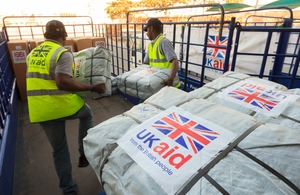 As growing numbers of people flee continuing violence in Syria, Prime Minister David Cameron has announced further support from the UK to provide urgent help for tens of thousands of families facing the onset of winter.
Speaking during a visit to Za'atri camp in Jordan, the Prime Minister pledged a further £14 million in aid to provide emergency assistance including lifesaving food and shelter, both for people inside Syria affected by the violence and for refugees who have fled to neighbouring countries.
The new support means the UK remains at the forefront of international efforts to address the crisis.
Lifesaving food and shelter
British aid will help provide support for the 1.2 million people inside Syria who have been forced out of their homes by the fighting. This includes:
Blankets to protect against increasingly cold nights and hygiene kits containing basic necessities like soap for some 30,000 families.
Food for 71,000 people, including fortified foods designed to help protect children against malnutrition.
Help for 8,300 Palestinian refugees based in Syria, including emergency food supplies and assistance in preparing for winter.
The remaining support will benefit Syrian refugees in neighbouring countries including Iraq, Jordan, Lebanon and Turkey and will:
Make sure 23,000 Syrian refugees are provided with food.
Support to UNHCR, the UN's refugee agency, to provide a range of services for refugee children including trauma counselling and education.
Provide safe transportation from the border to refugee camps for around 30,000 Syrian refugees who may already have walked for days to reach safety.
Justine Greening, Secretary of State for International Development, said:
The UK continues to provide desperately needed help to people who have lost everything as a result of the horrific violence in Syria. Critically, aid is reaching people across the country, including those in contested and opposition held areas, thanks to the bravery of humanitarian workers risking their lives to help others.

The number of refugees has tripled since July and over 360,000 are now registered. The UK is playing its part, but it is vital that other countries join us so that the Syrian people are not forgotten as they face a freezing winter and an uncertain future.
Follow the latest updates on the Syria crisis and how UK aid is helping
Published 7 November 2012