News story
Synthetic Environment Tower Community of Practice
The Defence Science and Technology Laboratory (Dstl) is looking to expand its Synthetic Environment Tower of Excellence (SE Tower) Community of Practice (COP)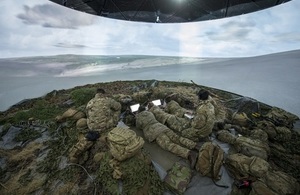 The Defence Science and Technology Laboratory (Dstl) is looking to expand its Synthetic Environment Tower of Excellence (SE Tower) Community of Practice (COP).
Since 2004, the SE Tower has provided a mechanism for the Ministry of Defence (MOD), industry and academia to work together on areas of research in simulation and synthetic environments. The SE Tower aims to develop UK defence capability in this area, and annually seeks to refresh its relationships with the supplier community by opening the COP to new members.
Last year, 11 members joined, bringing our total membership to 49, benefiting from twice-yearly Information Exchange Events (IEE) and access to the Shared Working Environment. The next event is planned for Wednesday 10 May 2017 where Dstl will once again be looking at ways to increase the mutual understanding and co-operation between the MOD and the sector.
Simulation and synthetic environments are used by MOD in a variety of ways, from supporting training, concept development and experimentation, to acquisition, evaluation and mission preparation.
We are now accepting applications to join the SE Tower COP until Friday 7 April 2017. Application forms can be found at the SE Tower website along with more information on the COP.
Published 2 March 2017