World news story
Syariah Law briefing for British Nationals in Brunei
A presentation by Brunei government officials and Q&A session will be held on Saturday 12 April at 9am at the Yayasan Complex.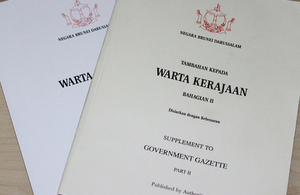 The first phase of the Syariah Penal Code Order 2013, announced last October, will come into effect on 22 April 2014. After soundings within the British community, the High Commission has requested the Brunei government to hold a briefing for interested British nationals.
This will be held in the Multi-Purpose Hall, 4th Floor, Block B, Yayasan Sultan Haji Hassanal Bolkiah Complex, Jalan Pretty, Bandar Seri Begawan at 0900 on Saturday 12 April.
The format of the briefing will be a presentation from Brunei government officials which will probably last 1–2 hours. There will then be an opportunity to ask any questions. Refreshments will not be available at the venue but can be found nearby.
We understand similar briefings will be held for other national groups during April – please consult the appropriate Embassy or High Commission if interested. Please be aware that members of the media may be present at all such briefings.
This notice has been sent to various British groups and other organisations. Feel free to pass it on to any other British national who may be interested.
Please note: Any unavoidable changes to arrangements will be posted on our website so please check for any updates before 12 April.
To give us some idea of likely numbers, could you please confirm attendance at BsbConsularEnquiries@fco.gov.uk or call our office at +673 222 2231.
Further information
For access to the 4th floor of the Yayasan Shopping Complex, please use the lifts located on the ground floor, main entrance between shops WYWY Enterprise (G.8 & G.11) and AV Enterprise (G.12).
Published 27 March 2014