World news story
Swinging 60s in Kazakhstan
This year Queen's Birthday Party will be devoted to the fashion and music of the 1960s.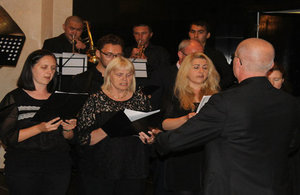 This summer the British Embassy Astana will host a Queen's Birthday Party devoted to the fashion and music of the 1960s.
The Queen's Birthday is a day when we celebrate everything that makes Britain a GREAT place to live, work, study and do business. This year we will remember the "swinging 60s" in Britain and iconic figures, connected with this period: The Beatles, James Bond, Mick Jagger etc.
In the 60s, London became the world capital of cool. This city made a GREAT metamorphosis during the post-war period and transformed into an epicentre of fashion, style, music and design. Creativity flourished. Creative types of all kinds gravitated to the capital, from artists and writers to magazine publishers, photographers, advertisers, film-makers and product designers.
The music of the Swinging 60s presented to the world bands such as The Beatles, The Who, The Kinks, The Small Faces and The Rolling Stones who then went on to worldwide success.
Our Queen's Birthday Party will bring the "Swinging 60s" atmosphere alive and let our guests feel the spirit of this cool period.
The British Embassy Kazakhstan would like to thank our sponsors for the Queen's Birthday Party: Air Astana, Airbus Group Kazakhstan LLP, Shell, Ernst & Young, PwC Kazakhstan, Michael Wilson & Partners, Deloitte, London Vodka and Newby London.
Published 16 May 2016