Swifter justice as more committal hearings are abolished
Criminal Justice Minister Damian Green today announced measures to ensure serious criminals face justice as soon as possible, by abolishing …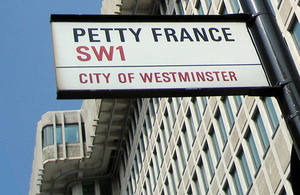 Criminal Justice Minister Damian Green today announced measures to ensure serious criminals face justice as soon as possible, by abolishing court committal hearings in these areas, which include Birmingham, Manchester and Nottingham.
Scrapping the hearings will help the courts to run more efficiently and will ensure they provide a better service for users.
They were abolished in 12 areas in June and will be phased out across the rest of England and Wales over the next year. Nationally, the changes will mean that around 60,000 fewer hearings will be needed each year.
Criminal Justice Minister Damian Green said:
'Abolishing committal hearings is another one of the steps we are taking to make justice swift and sure, and to ensure our courts run efficiently and effectively for victims, witnesses and the taxpayers whose money funds them.
'The justice system needs continued improvement, and this announcement is an important step forward.'
The changes are the latest stage of a series of moves to make the justice system swifter. These have also included introducing flexible court operating hours during evenings and weekends in almost 50 areas and increasing the use of video links between courts, prisons and police stations, saving time and money for the whole justice system.
Notes to editors
Committal hearings are a procedural part of the court process, used to officially transfer a case from the Magistrates Courts, were lower level crimes are dealt with, to the Crown Court, which handles the most serious offences.
They were abolished in 2001 for 'indictable only' offences, which have to be heard at a Crown Court because of their seriousness. The current changes abolish committal hearings for 'either-way' offences, which can be dealt with either at the Magistrates of Crown Court, depending on the seriousness of the individual case.
Cases will now be sent to the Crown Court as soon as it is clear the matter is serious enough, without the need for a separate committal hearing.
The new justice areas where committal hearings for either-way cases will be abolished from Monday 5 November 2012 are: Birmingham; Bolton; Buckinghamshire; Burnley, Pendle and Rossendale; Bury and Rochdale; Carmarthenshire; Ceredigion and Pembrokeshire; Chorley; Coventry District; Dudley and Halesowen; East Lancashire; Furness and District; Fylde Coast; Gloucestershire; Halton; High Peak; Lancaster; Macclesfield; Manchester and Salford; Mansfield and Worksop; Neath Port Talbot; North Cumbria; North East Derbyshire and Dales; North West Wiltshire; Nottingham and Newark; Oldham; Oxfordshire; Preston; Sandwell; Solihull; South Cheshire; South East Wiltshire; South Lakeland; South Ribble; South Somerset and Mendip; Southern Derbyshire; Stockport; Swansea County; Swindon; Tameside; Taunton Deane, West Somerset and Sedgemoor; Trafford; Walsall and Aldridge; Warrington; Warwickshire; West Cheshire; West Cumbria; West Hampshire; and Wolverhampton.
These areas are in addition to the 12 areas where committal hearings were abolished on Monday 18 June 2012: Bath and Wansdyke; Berkshire; Bristol; Liverpool and Knowsley; North Avon; North Hampshire; North Somerset; Ormskirk; Sefton; St Helens; Wigan and Leigh; and Wirral.
The phased abolition of hearings will continue over the next year. Details of the next phases will be announced in due course.
The abolition of committal hearings for either-way offences means that the Crown Court media reporting restrictions which would previously have applied at that stage will now apply from the 'sending hearing' at the Magistrates Court, where the case is sent to the Crown Court.
Information about how the justice system works, how judges reach their sentencing decisions and how courts in each area are performing is available on the Open Justice website.
For more information, please call the Ministry of Justice press office on 020 3334 3536. Follow us on twitter @MoJPress.
Published 5 November 2012