News story
Sweden to represent British interests in Iran
The UK and Sweden have announced a protecting powers agreement which will allow Sweden to represent British interests in Iran.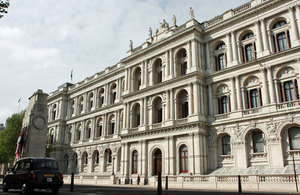 Oman will perform the same role for Iran in London.
An FCO spokesperson said:
"We are very grateful to Sweden for agreeing to take on the role of 'protecting power', looking after the interests of the UK in Iran. A British Interests Section will open under the auspices of the Swedish Embassy in Tehran from 15 July. We have accepted the Sultanate of Oman as the Islamic Republic of Iran's protecting power in the UK.
"Following the unacceptable attack on our Embassy last year by Iranian State-backed militia we reduced our diplomatic relations with Iran to their lowest level. These new arrangements will help us continue essential business on a formal basis. The British Interests Section will provide limited consular assistance for emergencies only, as well as look after the staff and property of the British Embassy in Tehran. We have had an embassy in Iran for many years. And we would like to do so again in the future. But until that time arrives, we are confident that our interests in Tehran will be well looked after by the Swedish Embassy."
Published 12 July 2012