World news story
Suspected international drug trafficker captured in Amsterdam
A suspected international drug trafficker has been arrested in Amsterdam as part of a multi-agency operation.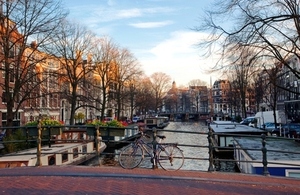 Craig Allen, aged 50, originally from Sheffield, and wanted in connection with seizures of heroin and cocaine dating back to 2010, was captured in Amsterdam by a team of armed officers as he left a furniture store on Tuesday 8 October.
Officers from the National Crime Agency, South Yorkshire Police and the Dutch National Crime Squad were involved in the operation to track down Allen. It is believed he orchestrated the importation of drugs while living in Thailand.
Allen was apprehended on a European Arrest Warrant relating to an investigation by South Yorkshire Police. Extradition proceedings are now underway.
Dave Allen, Head of the NCA's Fugitives Unit, said: "We believe this man, who is the first fugitive to be captured abroad since the NCA launched, is involved in the importation and supply of large quantities of drugs. This arrest is a result of close working with South Yorkshire Police and the Dutch authorities. It demonstrates the NCA and its partners have the capability to pursue fugitives relentlessly."
DI Craig Jackson from South Yorkshire Police said: "We have been working very closely with law enforcement colleagues from the National Crime Agency and the Dutch Police to locate and arrest a man, who is wanted in connection with significant drug trafficking offences. We will now work with the Dutch Prosecutors Office and the NCA to facilitate his extradition back to the UK to be dealt with."
During a subsequent search of an apartment in Amsterdam officers found four kilos of what's believed to be cocaine and 500,000 Euros.
Published 10 October 2013