Supporting the Yemeni people to democratically choose its leader
Leaders of five European countries including UK Prime Minister David Cameron have signed a statement following President Saleh's departure from Yemen.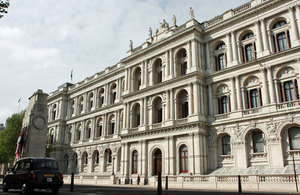 "We take note of President Ali Abdullah Saleh's departure from Yemen and are grateful to Saudi Arabia for receiving him on its territory for urgent medical assistance.
After months of troubles and violence that have inflicted considerable suffering to the people of Yemeni and caused much destruction, we urge all Yemeni civilian and military leaders to respect the truce initiated by King Abdullah of Saudi Arabia.
We call on the Yemeni people to find the way to reconciliation in a spirit of dialogue and national unity, in particular on the basis of the proposals presented in the framework of the Gulf Cooperation Council's initiative, which we fully support, in order for the Yemeni people to be able to democratically choose its leader. We stand ready to fully support the Yemenis in this move."
The statement was signed by:
Prime Minister David Cameron
French President Nicolas Sarkozy
German Chancellor Angela Merkel
Italian Prime Minister Silvio Berlusconi
Spanish Prime Minister Jose Luis Rodriguez Zapatero
Published 6 June 2011