Supporting reforms in Cuban agriculture
The British Embassy in Havana and ACTAF have signed the agreement that marks the beginning of the project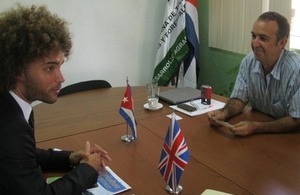 On 08 October the British Embassy in Havana and ACTAF signed the agreement that marks the start of the project 'Updating Cuban economy in agriculture' and the commitment from both sides to implement the actions that will take it forward.
The British Embassy in Havana is supporting Cuban economic reforms in agriculture through this project that will develop agro-ecological practices in six municipalities along with the training of local farmers in sustainable agricultural practices.
The project will be implemented by the Cuban Association of Agricultural and Forestry Technicians (ACTAF), a Cuban institution that promotes best practices in sustainable agriculture in Cuba.
Published 16 October 2013