Supporting operations in Afghanistan from Cyprus
RAF Akrotiri supports operations in Afghanistan in more ways than you might think writes Greg Taylor, an Officer Cadet with 7644 Squadron of the Royal Auxiliary Air Force.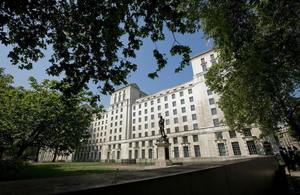 Basking in the eastern Mediterranean, RAF Akrotiri is situated in one of two UK sovereign base areas on the island of Cyprus. Its strategic location means it continues to play a vital role in supporting operations in Afghanistan.
At the heart of the station is a well-used airhead and a busy passenger terminal. In the air traffic control tower, Flight Lieutenant Emma Pattison said:
All air traffic going to or coming from Afghanistan comes through RAF Akrotiri.
We handle it all, whether it's fast jets, passenger planes carrying troops or heavy lift transporters carrying vehicles and equipment.
She breaks off to land an incoming flight and then reveals:
I was first posted here at the very start of my RAF career 12 years ago, but I've come back to a very different station now.
Evolution is very much the recurring theme. Wing Commander Andrew Ellison, Officer Commmanding Base Support Wing, explained:
Twenty years ago RAF Akrotiri was only really known as a destination for air practice camps and exercises. Today it's a primary joint operating base, home to combined Army/RAF engineering, logistics and movements squadrons, all working to service the requirements of theatre.
The station is also much leaner these days, despite the increased tempo that results from being a cornerstone of operations. Our manpower has reduced significantly in recent years. We are most definitely doing more with less.
RAF Akrotiri is still used as a destination for training. Fast jet squadrons regularly visit from the UK and often work in conjunction with exercises being run by the two infantry battalions resident in Cyprus. Between them they fulfil the year-long role of Theatre Reserve Battalion (currently 2nd Battalion The Royal Anglian Regiment).
The training assets at their disposal have recently been enhanced with the creation of a mock Afghan village as well as forward operating and patrol bases:
The new training areas and facilities are incredibly useful," said Captain Jim Mansell from Headquarters British Forces Cyprus. "They enable troops to maintain the highest levels of readiness, so when they are called on to provide additional infantry support in Afghanistan, they can do so with minimal in-theatre training.
The village is similar to the one at STANTA in Norfolk, with the added bonus of Mediterranean heat, and the harsh terrain here is quite similar to that seen in Afghanistan. The pre-deployment training scenarios that we put together are as authentic as we can make them - more so when we bring in helicopters as well.
That helicopter support is provided by 84 Squadron, whose primary role is military search and rescue. Based at RAF Akrotiri it is the only RAF squadron never to have been based in the UK since its formation in 1917. Their Commanding Officer, Squadron Leader Richard Strookman, said:
Giving deploying troops the chance to experience working with helicopters is vital. Many soldiers have never done so. Our Griffins provide the experience of noise and dust and the chance to explain the dangers and boarding protocols.
Further Army/RAF co-operation can be found on the coast. The station sees a constant influx of new vehicles and equipment by sea, ordered under MOD urgent operational requirement contracts. The cargo - new Mastiff, Coyote and Jackal vehicles being among recent deliveries - is unloaded and brought ashore by soldiers of the Royal Logistic Corps using their landing craft. All vehicles delivered are checked and receive a nominal pre-delivery inspection before they are flown to theatre.
Captain Mansell said:
This way of handling equipment means we can get urgent items into theatre quicker and in larger numbers than would be possible by using air alone, and it's more cost-effective.
The Joint Logistics Squadron runs the same operation in reverse for returning unserviceable or damaged equipment from theatre, either for repair in Cyprus or for return to the manufacturer.
Also coming the other way are, of course, troops returning after deployment on operations. RAF Akrotiri encompasses the venue for decompression - the compulsory period which provides them with an opportunity to adjust from an operational environment before continuing back to the UK.
Finally, aeromedical evacuation is, sadly, another tranche of air traffic calling at RAF Akrotiri - and the urgency of these flights is well appreciated by all those who play a part in getting them on their way. The feeling is summed up by Flight Lieutenant Pattison back in air traffic control:
We're standing by 24/7 and will open the airfield in the middle of the night if we need to. The whole team here gets the urgency - we know how essential it is that we don't delay them a second longer than necessary," she explained.
It's clear to see that all stationed at RAF Akrotiri will continue to do their best as they work, irrespective of Service, on the bridge to operations.
This article is taken from the December 2010 issue of Defence Focus - the magazine for everyone in Defence.
Published 11 January 2011