News story
Supporting injured troops on the battlefield
Case study from Inova Design Solutions Ltd who pitched their ideas to industry and investors at the CDE Marketplace on 5 February 2015.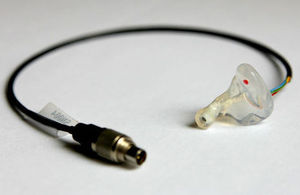 Inova Design Solutions Ltd is working with the Centre for Defence Enterprise on 2 projects to support injured troops on the front line.
The Guildford and London-based company is developing a non-invasive way of continuously monitoring someone's core body temperature. An initial contract was for a proof-of-concept prototype to show how this could be done alongside existing military equipment. The prototype is now being further developed for field trials and commercialisation.
The second project, which has just begun, will build upon this platform technology and look at ways to measure additional vital signs, including heart rate and blood pressure.
Leon Marsh, Chief Executive Officer and Founder of Inova Design Solutions Ltd says:
The funding and support from two CDE contracts has helped us to prove the technical feasibility of our proprietary technology, and establish confirmation of its need by the defence community. This, in turn, is enabling us to raise additional funds and begin commercialising the technology.
Centre for Defence Enterprise
Building R103
Fermi Avenue

Harwell Oxford
Oxfordshire
OX11 0QX
Email cde@dstl.gov.uk
Telephone +44 (0)30 67704236
Alternative number +44 (0)30 67704237
Please email for the quickest response.
Published 5 February 2015
Last updated 25 February 2015
+ show all updates
Video added: Inova at CDE Marketplace
Pitch presentation slides added.
First published.