News story
Support for the visual effects industry: consultation launched
Views sought on providing support for the visual effects industry through the tax system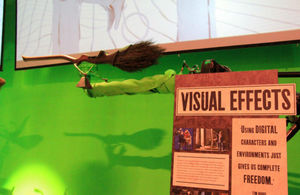 The government is seeking to find out how it can further support the visual effects industry in the UK through the tax system.
The consultation invites views on options including changes to film tax relief, which has been highly successful at supporting investment in the UK film sector, providing more than £200 million to over 300 films in 2011 to 2012, and supporting the production of films such as Harry Potter.
The consultation draws on the Chancellor of the Exchequer George Osborne's announcement at Budget 2013 that the government would look into ways to build on new tax reliefs for the creative industries, providing support for the sectors that contribute to UK culture, including the UK's world-class visual effects sector.
The Chancellor announced the government's intention to introduce new corporation tax reliefs for the animation, high-end television and video games industries at Budget 2012.
At Budget 2013 he expanded on this, announcing additional funding for support digital media production, including visual effects.
Support for the creative industries was identified by the government in the Plan for Growth as having the potential to drive significant growth in the UK.
Chancellor George Osborne said:
I want Britain to lead the world in creative highly-skilled industries like visual effects. We are consulting on further support through the tax system in recognition of the sector's valuable cultural and economic contribution to the UK.
The current film tax relief has been highly successful in recent years at supporting investment and production in the UK film sector, with productions such as Harry Potter and Inception providing significant opportunities for UK visual effects companies.
Views are invited from a wide range of respondents, including individuals, companies, and professional bodies. Responses will be considered in any future policy in this area.
This stage of the consultation will run until 2 July. The government is also meeting with stakeholders during the consultation period to discuss their views on the topic.
Photo by Karen Roe on Flickr. Used under Creative Commons.
Published 21 May 2013