Press release
Support for new ways of neighbourhood working
New support for communities to tackle neighbourhood issues.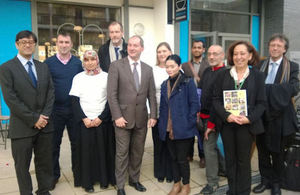 Communities Minister Stephen Williams was in Poplar, East London today (10 December 2013), to announce that a consortium led by Locality, will be working with the department to support at least 100 communities to tackle issues at a neighbourhood level. The 'Our Place' programme, backed across government, has already been successful in 12 pioneering areas, all of whom are designing and delivering local services that focus on local priorities.
The minister heard from a range of partners involved in the Poplar pilot, including volunteer 'Health Champions', about how their programme (led by local housing and regeneration community association, Poplar HARCA), could save the NHS a potential £4 million over 5 years by promoting healthy lifestyles and improving treatment of those at risk of diabetes.
'Our Place' is a fundamental part of the government's approach to localism, transforming public services by making sure that they are focussed on the user, not the organisation.
Since the launch of 'Our Place' in July, over 250 organisations from across the country and ranging from local authorities, and parish councils, to voluntary and community organisations, police commissioners and fire and rescue authorities have said they want to find out more about 'Our Place' and what the approach can offer them.
In July a £4.3 million support package was announced to help at least 100 communities to design and deliver local services that focus on local priorities and reduce costs. The consortium announced today will be led by Locality - a national community support organisation, in partnership with the Local Government Association, and a wider network of associates including the National Association of Local Councils and the Community Development Foundation.
Speaking at the St Paul's Way Centre, Stephen Williams said:
Poplar and the other 'Our Place' pioneer areas are seeing the huge benefits of giving the initiative and influence back to local communities. We want other areas right across the country to enjoy these benefits too by taking more responsibility for the services and spending decisions in their neighbourhoods.

The consortium has a wealth of experience working with communities and helping them to deliver change and I'm confident that together we can create the 'Our Place' movement we want to see.
Minister for Civil Society Nick Hurd said:
The 'Our Place' programme offers an exciting opportunity for people to work together locally to tackle the problems that matter to them most. The pilot areas are a great example of what can be achieved when people work together in new and innovative ways and I hope that VCSE organisations will consider bidding for the support that has been made available for the next 100 areas.
Steve Wyler, CEO of Locality said:
We are delighted that Locality has been selected to run the 'Our Place' programme. Locality and our nationwide network of ambitious community organisations are long term advocates of collaborative service delivery which we believe better meets the needs of local communities.

We have considerable expertise to draw on within Locality, our membership and from our executive partner the Local Government Association as well as delivery associates like the Community Development Foundation. The 'Our Place' approach places local people firmly at the heart of service design, decision making, planning and delivery because they know what will work best for their community.
Further information
For more information on 'Our Place', read the summary report (PDF, 1.10MB) available on the My Community Rights website.
Poplar (Tower Hamlets) is one of the 12 pilot neighbourhoods, the others are: One Haverhill (Suffolk), White City (Hammersmith and Fulham), One Ilfracombe (Devon), Poplar (Tower Hamlets), Sherwood Family Partnership (Tunbridge Wells), Kenton (Newcastle), Balsall Heath (Birmingham), Castle Vale (Birmingham), Shard End (Birmingham), Queens Park (Westminster), Little Horton (Bradford), Norbiton (Kingston-Upon-Thames).
There is a strong cost benefit analysis of the Poplar plans. Current calculations suggest that an investment from partners and other stakeholders valued at just over £1 million is likely to generate, in terms of social return, a net present project value of around 12 times the initial investment. Health volunteers in Poplar aim to save the NHS a potential £4 million over 5 years by promoting healthy lifestyles and improving treatment of those at risk of diabetes.
Locality is the leading nationwide network of community enterprises, development trusts, settlements and social action centres. Locality's membership has expertise in community asset ownership, community enterprise, collaborative working, community voice and advocacy. Locality is running the Community Rights support service and is leading the Community Organisers programme mobilising people across England. It is also the UK expert on asset transfer, bringing land and building into community hands through the Asset Transfer Unit. Locality was created through the merger of the Development Trusts Association and Bassac and commenced formal operation in April 2011. Find out more about Locality and becoming a member on Locality's website. Follow them: @localitynews on Twitter and Facebook.
The 'Our Place' programme of support and grants will be delivered through an executive partnership comprising Locality and the Local Government Association (LGA). In order to deliver at the necessary scale, Locality has assembled an outstanding group of delivery associates to work alongside Locality and LGA: Office for Public Management (OPM), National Association of Local Councils (NALC), Community Development Foundation (CDF), Anthony Collins Solicitors LLP, Young Foundation, Community Matters, Social Enterprise UK (SEUK), Pro Bono Economics and New Economy Manchester.
Poplar HARCA (Housing and Regeneration Community Association) is a Registered Social Landlord that owns and manages around 9,000 homes in Poplar, Tower Hamlets. Poplar HARCA also run many community activities through their network of neighbourhood centres and work with a range of partners to deliver services to local residents eg employment and training advice, fitness classes, youth activities, elders groups and so much more. Poplar HARCA's aim is to make Poplar a better place to live.
Published 10 December 2013