Support centres for rape victims
Four new centres offering support for victims of rape and sexual violence are set to open.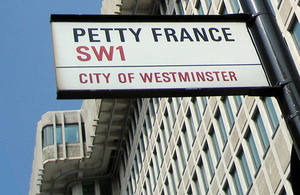 The centres are funded by the Ministry of Justice and will be located in Hereford, Trafford, Dorset and Devon.
The announcement on the 100th anniversary of International Women's Day is part of the government's commitment to increase rape support centres across England and Wales and ensure victims who need the most help get it.
The £600,000 funding will allow the new centres to help victims get their lives back on track by providing specialist services.
Minister Crispin Blunt said: 'Rape and sexual violence are devastating crimes which ruin lives.
'By providing long-term funding for new rape support centres, the government is demonstrating its commitment to ensure that every victim receives the specialist support they need to rebuild their lives.'
Published 9 March 2011