News story
Vote of success for 2015 NDA Estate Supply Chain Event
Last month's NDA Estate Supply Chain Event scored an overwhelming 97% success rating with visitors, according to a follow-up survey.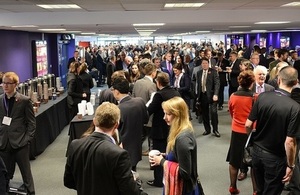 Virtually everyone who responded to the questionnaire agreed that the one-day event at EventCity, Manchester, had been a good use of their time.
The electronic survey was issued to the 1,500 visitors. It sought to understand which aspects of the event had worked well and which might need adapting to ensure the 2016 event will continue to meet business aspirations.
The survey also showed that:
many of those attending had been to previous events
around 20% were new to the decommissioning market
NDA supply chain event 2015: survey results (PDF, 780KB, 11 pages)
The event, supported by the NDA and all its Site Licence Companies (SLCs), was launched in 2011 to provide a business networking forum and improve the visibility of opportunities for suppliers, particularly those in the Small and Medium-sized Enterprise (SME) community. It is now believed to be the largest of its kind in Europe.
Ron Gorham, the NDA's Head of Supply Chain Optimisation and SME Champion, said:
We knew from Informal discussions with delegates on the day that the event was, once again, extremely successful and we are delighted that the survey confirms this. However, we are keen to listen to views about what could be better and will build additional refinements into the next event.
He added that this year's expanded and more central Innovation Zone had proved successful, while the awards had also attracted a greater number of entries. To provide more time for networking at next year's event, while retaining the awards ceremony as a major highlight, a more concise format for the morning presentations was being considered.
The main hall featured more than 270 exhibition stands, staffed by a wide range of technical and service suppliers, alongside information stands representing the NDA, all the SLCs, government bodies and regeneration organisations.
The date and venue for next year's event will be finalised early in 2016 – so watch this space!
Photos from the Supply Chain Event 2015
Video footage from the Supply Chain Event 2015
Comments from attendees
Best in the industry anywhere in the world.
A real buzz about the place.
Very worthwhile and enjoyable day.
Best event in the nuclear industry……by far.
Outstanding forum for prospective SMEs to gain an improved understanding of the sector.
Great venue, great event, great day!
Single most important supply chain event in our calendar.
Well organised, outstanding event with a professional but friendly atmosphere.
Professional, interesting with great networking opportunities.
Very useful to SMEs.
Supply Chain Awards 2015
The annual awards recognise the vital contribution of suppliers to the UK's nuclear clean-up mission and were among the highlights of the NDA Estate Supply Chain Event, held at EventCity, Manchester.
Open to suppliers of all sizes, entries were submitted in 5 categories including collaboration, innovation and export success.
The NDA's Ron Gorham, chair of the judging panel, said:
Our suppliers play a critical role in delivering timely, cost-effective decommissioning across our sites, and we are delighted to acknowledge their success. The standard of entries this year was again extremely high, particularly from SMEs who demonstrated an impressive level of innovation in their approach to challenging situations.

These awards celebrate the commitment of our supply chain and the value they bring on a daily basis.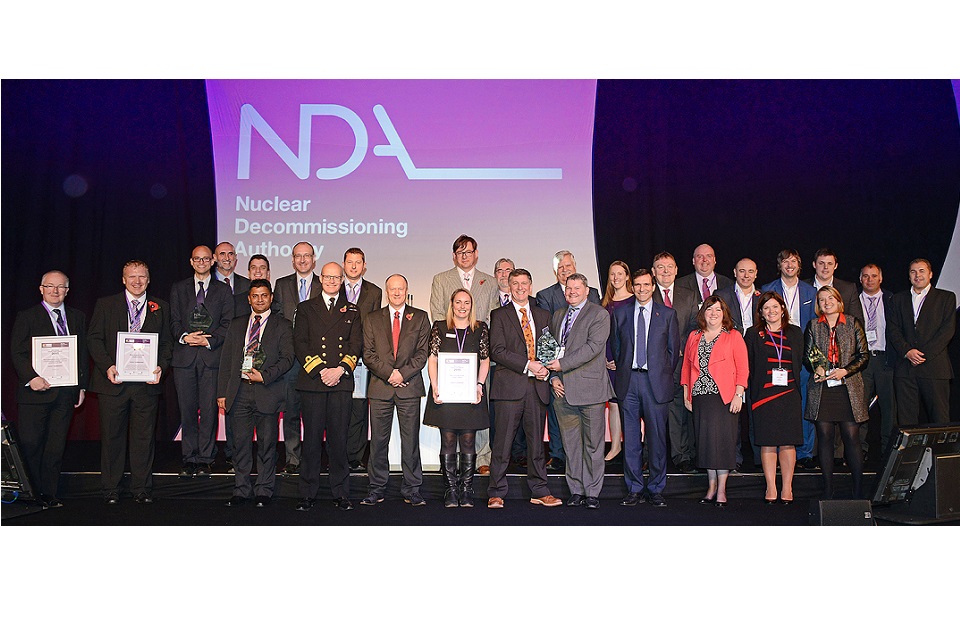 Technology/Innovation Implementation (new award for 2015)
This new award recognises both the innovation and collaboration required to take a technology/innovation through to successful deployment on a site. The award was open to all suppliers, whatever size, working collaboratively with the SLCs.
Winner
TWI and Magnox with Fanuc Robotics
First-of-a-kind automated laser cutting of contaminated skips, developed at Hinkley Point A.
Highly Commended
Forth Engineering and Sellafield
Adapting off-the-shelf equipment to drive hydraulic power pack in legacy pond.
SME Innovation
An award specifically for smaller businesses, the innovation can be a new product/process or adaptation of technology from other non-nuclear market, bringing benefits and savings.
Winner (plus Highly Commended)
Novel development of a combined cement and organic matrix to recover and solidify contaminated water from Harwell's ILW storage tubes. Supported by other SMEs.
with Highly Commended for the project partners Rutpen and Nochar, and for Stuart Watson of Magnox Ltd.
Collaboration
This year, collaboration was interpreted in its widest form, open to suppliers and organisations working collaboratively in the supply chain or providing wider community benefits, or increased skills.
Winner
PPS Electrical, Lakes College, Hilti, Arco, Edmundson Cabletech Carlisle, JTL and Sellafield Ltd
Improving the experience for students at the start of their apprenticeship journey by providing training, PPE/equipment and materials
Highly Commended
Supply Chain Quality Event Review Team (SC QERT)
Led by Interserve to develop the mechanics for sharing and communicating Learning From Experience between Sellafield Ltd and the supply chain. Members include Amec Foster Wheeler, Ansaldo NES, Arup, Atkins, Balfour Beatty, Carillion, Cavendish Nuclear, Costain, AMA, Sir Robert McAlpine, Urenco, Morgan Sindall, M+W Group, Nuvia, GE Group, Magnox Ltd and Sellafield Ltd.
Britain's Energy Coast Business Cluster
Encouraging collaboration, partnership and co-operation between its 250-plus members.
The University of Manchester and National Nuclear Laboratory working with SMEs to develop their innovations for commercial applications.
Long-term collaboration with Sellafield Ltd providing cost-effective training solutions
Export Award
A new award for 2015, created in conjunction with UKTI, for companies who have successfully exported overseas from concepts, products and services originally conceived or implemented in the NDA estate.
Winner
Their unique N-VisageTM Gamma Imaging System provided analysis and consultancy support to inform future clean-up activities at Fukushima.
Minister's Award
Sponsored this year by Lord Bourne, Parliamentary Under Secretary of State for Energy and Climate Change, the Minister's Award recognises the great value, flexibility and innovation that SMEs bring to the mission.
Winner
Design and manufacture of the Shaft Intervention Platform for the Dounreay shaft.
Published 6 November 2015
Last updated 17 December 2015
+ show all updates
Addded link to video on YouTube and link to Flickr site and uploaded survey results
Added information on supply chain event success
First published.
Award winners announced
Supply Chain Award shortlist announced
Amended to reflect the proximity of the event. Last chance to register to attend.
Supply Chain Award entries closed on 11 September 2015.