News story
Supply Chain Conference 2015 - Scotland 5th November
HS2 Ltd are hosting the next supply chain conference in Edinburgh. The conference will be a chance for businesses to find out what opportunities will be available to them on the HS2 project.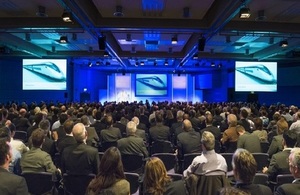 HS2 is the biggest infrastructure project in the UK for decades and presents a great opportunity for Scottish businesses large and small to compete for construction and design contracts. HS2 will generate thousands of jobs, drive regional regeneration and help rebalance the economy.
As the biggest and most ambitious infrastructure project in the UK we will be outlining the size and scale of opportunities that will be available to businesses throughout the supply chain, and giving advice on the route to market and how to compete for design and construction contracts
To book your place at this event, please register here.
Date:
Time:
Speakers:
We are pleased to announce the speakers for this conference will be:
Transport Minister, Department for Transport

Cabinet Secretary for Infrastructure, Investment and Cities, Scottish Parliament

Commercial Director, HS2 Ltd
Location:
For further information on this event, please contact the HS2 events team at:
Published 21 September 2015