Nuclear decommissioning supplier award winners announced
The winners of this year's prestigious NDA Estate Supply Chain Awards were announced to a packed audience in Manchester.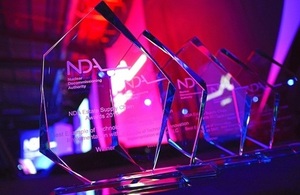 The annual awards recognise the vital contribution of suppliers to the UK's nuclear clean-up mission and were among the highlights of the NDA Estate Supply Chain Event, held at EventCity on 3 November. Five categories remained the same as previous years, with a new award for 2016 that recognises skills development:
capability and capacity
technology implementation
SME innovation
collaboration
exports
Minister's award, selected from all individual entries
Chair of the judging panel, Ron Gorham, the NDA's Head of Supply Chain optimisation and SME Champion, said:
Our suppliers play a critical role in delivering timely, cost-effective decommissioning across our sites, and we are delighted to acknowledge their vital contribution. I was particularly pleased with the quality and variety for our new enhancing capability and capacity award.

These awards celebrate the commitment of our supply chain and the value they bring on a daily basis.
Capability and Capacity Award
This new skills award recognises that capability and capacity in the supply chain are important to support projects and programmes, both now and in the future. The award was aimed at suppliers who may have:
developed their employees' skills
supported supply chain partners to develop
created opportunities to bring people into the workplace
developed skills and enabled an environment where differences are valued
Winner: Profile Security Services - Security Return To Work Scheme
Profile Security Services set up a partnership with Dounreay and the Wick Jobcentre Plus to create 'Return to work', 'Work Experience' and 'upskilling' opportunities in the security industry for young people locally.
Highly commended: Stainless Metalcraft Ltd – 100 years of training at Metalcraft
Metalcraft identified an age profile issue several years ago and set up a project to develop more home-grown talent, culminating in establishing an apprentice Training Academy – the Fenland Engineering Skills Centre, and this year are celebrating 100 years of training apprentices on their site.
Technology/Innovation Implementation Award
This award is to recognise both the innovation and collaboration required to take technology or innovation through to successful implementation at a Site Licence Company.
First winner: OC Robotics/TWI Ltd/Sellafield - LaserSnake: size reduction of a dissolver vessel within the First Generation Reprocessing Plant at Sellafield
An integrated snake-arm robot and laser cutting technology which successfully completed an active in-cell size reduction task at Sellafield's First Generation Reprocessing Plant, proving it to be a versatile system for in-situ decommissioning tasks.
Second winner: National Nuclear Laboratory (NNL)/Westinghouse (Fauske & Associates, LLC)/Sellafield – Magnox Swarf Storage Silo reactive materials, a paradigm shift in the management of nuclear waste
Working at the UK's highest hazard facility, the Magnox Swarf Storage Silo, the combined expertise of this group radically improved understanding of the stored waste's chemical behavior. The results have underpinned significant changes that will result in faster waste retrieval, hazard reduction and estimated savings of more than £1 billion.
SME Innovation Award
An award specifically for smaller businesses, the innovation can be a new product/process or adaptation of technology from other non-nuclear market, bringing benefits and savings.
Winner: Omniflex – new product development for replacing the entire radiological monitoring system and associated instrumentation within an active handling facility whilst maintaining 100% plant availability
Omniflex, working for and with NNL at their active handling facilities at Sellafield had to design, build and install a substantiated replacement radiological monitoring system of 130 instruments to a tight timescale and ensure 100% plant availability during the works. The new product is now planned to be used on other projects at Sellafield.
Highly commended: DBD Ltd - Sellafield Site Resilience Project
The Resilience Project followed Fukushima in 2011 which prompted fundamental reviews of the resilience of nuclear power plants worldwide. DBD were tasked by Sellafield Ltd to design and implement the Resilience Evaluation Process which examines nuclear facilities, identifies fault pathways and the effectiveness of the corresponding emergency response.
Collaboration Award
This year we again looked at collaboration in its widest form. This award was open to suppliers and organisations who have worked collaboratively within the supply chain.
Winner: ACKtiv Nuclear (joint venture of Jacobs, Atkins, Carillion) – a long-term collaboration working as an integrated team on the First Generation Magnox Storage Pond retrievals project with Shepley Engineers Ltd and Sellafield
The ACKtiv Nuclear joint venture of Jacobs, Atkins and Carillion is seen as the longest-running joint venture at Sellafield, supporting the First Generation Magnox Storage Pond (FGMSP). This project is pioneering advances into accelerated risk reduction in the decommissioning of legacy high-active facilities, seeking fit-for-purpose solutions and embracing innovation. The start of bulk sludge transfers from the FGMSP was only possible because of the collaboration between ACKtiv Nuclear, Sellafield and the supply chain, particularly Shepley Engineering.
Highly commended: nucleargraduates organisation - nucleargraduates development programme working with sponsors and a wide range of secondment host organisations
The success of the nucleargraduates scheme comes from the 11 sponsor organisations from across the nuclear, defence and regulation estates, as well as the 20 secondment host organisations which includes SMEs, government departments as well as international hosts. They come together frequently, to help the programme develop, to identify placements, even to house graduates who haven't been housed elsewhere.
Export Award
An award for companies who have successfully exported overseas, from concepts, products and services originally conceived or implemented in the NDA estate.
Winner: Nuvia - Ignalina spent fuel store, Lithuania (design, manufacture, installation and testing of fuel handling equipment)
The fuel-handling equipment for Ignalina incorporated Nuvia's accumulated knowledge gained from the team's combined experience of remote handling equipment designs, including designs for nuclear fuel grabs, remote cranes and their controls and safety systems acquired form working over many years on NDA estate projects.
Minister's Award
The Minister's Award recognises the great value, flexibility and innovation that SMEs bring to the mission.
Winner: Stainless Metalcraft Ltd
The judges loved the story of 100 years of apprenticeships at an SME that intends to recruit up to 10 apprentices every year until at least 2020. It showed a company determined to supply products and equipment for high-integrity, mission-critical items well into the future, with its next generation of engineers trained to the highest standards.
Published 25 October 2016
Last updated 3 November 2016
+ show all updates
Winners announced

Updated company name

First published.