Summit to help "unbanked" people in developing world
A DFID-sponsored summit on mobile banking is currently taking place in Rio de Janeiro.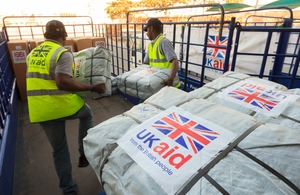 2.7 billion people in developing countries have no access to financial services. This excludes them from economic life, and makes it much harder for them to cope with unforeseen events such as severe weather or illness in the family. It also means it is harder for them to improve their incomes, build assets, pay for healthcare and education. 
New technology-based financial services, such as mobile phone banking or the use of smartcards, have the potential to transform people's access to finance.
Across Africa, Latin America and Asia there are currently over a billion people who don't have a bank account but do have a mobile phone. This number is set to grow to 1.7 billion by 2012. 
Mobile phone-based money services are vital in providing people across the developing world with access to money transfer and other financial  services.  The GSMA Mobile Money Summit, co-sponsored by DFID, Visa, Citibank and others, brings together mobile operators, finance institutions, and mobile money technology providers to look at news ways to both develop the market for businesses and provide greater access to mobile money services to the "unbanked" populations of the developing world.
Secretary of State for International Development Andrew Mitchell said:
Access to basic financial services - the ability to save,  transfer and invest even small amounts of money - can make a huge difference to  people around the world. It can help a farmer to survive a bad harvest, or provide a slum-dweller with the vital capital needed to start a small business. It removes a huge barrier to people fulfilling their potential and contributing to economic growth.   

The GSMA Mobile Money Summit shows that mobile banking can be a win-win situation, benefiting both the private sector - banks and mobile phone companies - and the "unbanked" people  of developing countries, giving them an escape route out of poverty.
Published 24 May 2010