Press release
Summer of music continues into autumn by popular demand
10 areas across England supported to put on community-led, free music events this autumn.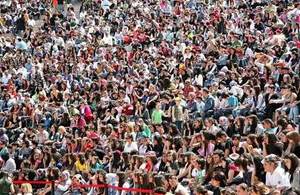 Following on from this summer's "our big gig" weekend of free concerts, 10 areas across England are being supported to put on further community-led music events and activities this autumn, to increase participation in music and get hundreds of people involved in free local activities. This is one of a number of projects the Department for Communities and Local Government is funding to bring people from different backgrounds together and help build stronger communities.
Communities Minister Stephen Williams announced today (31 October 2013) that parts of Blackburn and Darwen, Birmingham, Bradford, Bristol, Knowsley, Leicester, Luton, and Middlesbrough will all be involved, as well as the boroughs of Tower Hamlets and Westminster in London. Music projects will include singing and drumming workshops, as well as public performances.
Stephen Williams said:
This summer's our big gig series of concerts was a huge success, getting well over 200,000 people from different backgrounds and from communities across the country involved in local music events. I want people to maintain the new interest in music and the goodwill that's been created, which is why I'm today confirming that 10 areas across England will be putting on a variety of free community music projects this autumn.
Attracting over 200,000 people between 11 and 14 July, our big gig also saw:
326 free concerts across the country
35,000 people taking part in music activities including open mic sessions, singing as a choir, or making and playing instruments
14,000 performers
5,800 volunteers helping out with events
92% of spectators saying they would be likely to get involved in our big gig again in future
Stephen Williams added:
Our big gig is part of the government's Olympic legacy pledge to keep the benefits of the games and community participation in local events going. Just like the Olympics I want our big gig to go beyond being just a spectator event and provide opportunities for lasting activities and greater participation to bring people from all backgrounds together.
The projects are being organised by not-for-profit arts organisation Superact with funding from the department.
Katharine Lane, Director of Superact added:
From increasing participation in music to boosting a sense of community in participating areas, our big gig really brought the spirit of 2012 back to the country this summer.

Actively bringing communities together through music, our big gig EXTRA will build on the fantastic summer festival to get people in to music who have never sung a song, played an instrument or been part of a group before.
Alan Davey, Chief Executive of Arts Council England said:
Supporting the development of our big gig from its early beginnings has been a privilege. We have seen the event grow and see more people every year getting involved with making and enjoying music in their local community.

Superact have an excellent track record in building the partnerships to make this happen and we are delighted that through our big gig extra even more people are being given the chance join in.
Read about the local events available
Further information
The government is working to create more integrated communities and the conditions for everyone to live and work successfully alongside each other. In most cases local action by local people achieves this best, without government intervention, but in a few cases government is funding activities to promote community integration. These activities are in partnership with businesses, voluntary organisations and communities. Read more information on the projects
Superact consulted a range of national organisations to identify the areas where there is high and low provision of music. A combination of areas where there is existing musical activity to build upon and others where there is a lack of provision were then selected.
Published 31 October 2013