Sugar cube Number 10 on display in Downing Street
PM's residence hosts latest display of contemporary craft and design.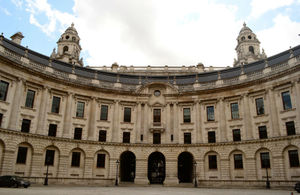 The iconic Number 10 door immortalised in sugar cubes is among a collection of striking exhibits which have gone on show at the Prime Minister's official residence.
Downing Street is hosting the second display in an ongoing exhibition of contemporary craft and design in its state rooms and communal areas.
The displays are showcasing the UK's dynamic contemporary craft and design sector, which generates an income of £457 million a year.
"There is no question that contemporary craft and design is doing extremely well in the UK right now," Culture Minister Ed Vaizey said. "We have some exceptionally talented craftspeople whose work is proving a big hit with collectors."
Janice Blackburn OBE, who is curating the display, said: "I am absolutely delighted that some very original work by UK designers is on view at Downing Street. This is the second in an ongoing series of displays that is already giving great pleasure to the thousands of people who visit No.10 each year."
The previous display of work at Number 10 led directly to new commissions for some of the artists.
The display of craft and design is expected to change every few months.
Further information
Published 27 February 2012