Sudan: UK helps contain yellow fever outbreak
Britain will support the vaccination of 2 million people in to help contain the worst yellow fever outbreak in 20 years.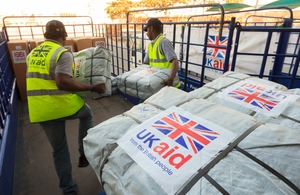 Development Secretary Justine Greening announced the new UK aid today after more than 800 suspected cases of yellow fever have been reported.
A total of 168 people have died from the disease across Darfur in the west of Sudan in the two months since the outbreak began.
The disease is spreading at an alarming rate, following nomadic migration routes across the region. At the moment yellow fever is mostly restricted to rural areas, however there is a risk that it will spread to urban areas including the camps that house up to 2 million people who fled their homes because of the Darfur conflict.
Urgent vaccinations are now required to protect the population at risk in Darfur as well as prevent this outbreak spreading across Sudan.
Yellow fever is caused by a mosquito-borne virus that is endemic in tropical regions of Africa and South America. In its most severe form it causes jaundice with liver and kidney failure together with systemic bleeding.
It has a high tendency to occur in epidemic proportions and results in high death rates. No disease-specific treatment exists - only supportive care can be given.
International Development Secretary Justine Greening said:
After years of conflict and poverty, the people of Darfur are now facing a major outbreak of one of the world's deadliest diseases.

British support will protect millions of Sudanese people against yellow fever and stop this regional outbreak from turning into a nationwide epidemic. The international community needs to continue to help the people of Sudan build a more peaceful and stable future.
The UK assistance announced today will support the World Health Organisation's vaccination campaign in affected states in Darfur.
A decade of conflict in Darfur has undermined the government of Sudan's ability to provide services to its citizens. The UK is working to support the peace process, provide humanitarian assistance, support community peacebuilding and, longer term, build the capacity of officials to respond to similar situations in the future.
Published 18 December 2012