World news story
Successful start of a new system for selection and training of military leaders in Bosnia
After 18 months of joint UK, NATO and Armed Forces of Bosnia and Herzegovina work, a radically new officer selection and training system started.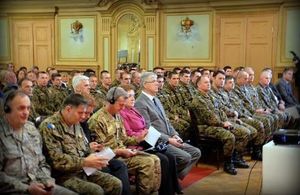 Bosnia and Herzegovina (BiH) Ministry of Defence and Joint Staffs have developed a tough, merit-based officer selection process. Used for the first time in December, this process has helped select 30 young civilian graduates to be trained as armed forces infantry platoon commanders. It is planned to improve and then repeat this selection process each year in order to replace the hundreds of officers who will be retiring over the coming years. Rejuvenating the officer corps with young leaders, selected from both the civilian sector and from the ranks of serving soldiers and non-commissioned officers is essential for the future of the BiH Armed Forces.
Chargé d'Affaires Jo Lomas attended a ceremony today to mark the start of this new officer selection and training system together with the BiH Defence Minister, senior staff of the Ministry of Defence and Armed Forces as well as by the newly selected officer recruits and their family members.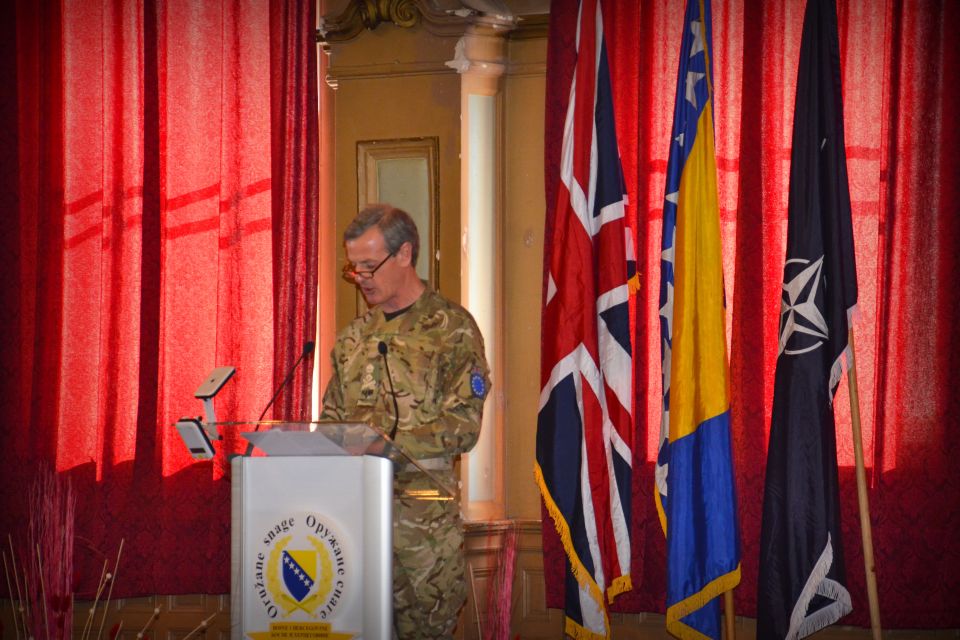 The Guest of Honour at the event was General Sir Richard Shirreff, NATO's Deputy Supreme Commander in Europe, who praised the BiH Ministry of Defence and Armed Forces for their initial success with this critically important defence reform initiative. He stressed that continued close supervision and leadership from the Minister and senior staff is needed for maintaining success of this project. He praised the young officer candidates and spoke of the need to develop a national sense of identity and ethos amongst future military leaders of this country.
General Shirreff went on to say:
…if this ethos is to be cemented throughout the armed forces it needs to be inculcated in young officers from the start of their careers, hence the importance of an officer candidate training course in BiH that brings together young cadets from all ethnic backgrounds and builds their military professional capability.
Ms Lomas said:
I am impressed that the Ministry of Defence and Armed Forces have achieved so much, and so quickly, with this new selection and training programme. To recruit so many excellent young officer cadets without the slightest evidence of mal-practice or political interference is a remarkable achievement. We look forward to working closely together to further improve the selection and training systems over the coming years. We hope also to arrange some joint UK and BiH officer cadet training here later in the year.
The new selection process takes place over 6 days and tests volunteer candidates in a wide range of physical, academic and intellectual tasks designed to identify leadership potential. These processes have been adapted for BiH use from similar systems currently used in a number of NATO countries.
In addition to the new selection process the training of young officers is also being transformed, again with support from the UK. Officer cadets will now undergo a 44-week long basic officer training course. The UK's Royal Military Academy Sandhurst has offered to provide advice and guidance on the further development of this training.
UK Defence Attaché, Lt Col Rob Tomlinson praised the Ministry of Defence, Joint Staffs and, specifically Commander Support Command, major general Tursonovic, who is responsible for implementing these new changes.
Lt Col Rob Tomlinson noted that:
The newly recruited officer cadets represent the very best that this country has to offer. They come from all parts of Bosnia and Herzegovina and have been selected - entirely on merit – to train together and to serve their country. That is a noble and honourable thing. I am particularly impressed that the Ministry of Defence and Armed Forces are demonstrating that they are both willing and able to reduce the risk of corruption in their selection processes.
Published 20 February 2014