Press release
Successful prosecution of recruitment firm boss who failed to pay worker
Former director of employment business WHG Offshore LTD pleads guilty of failure to pay a work-seeker after the firm went into administration.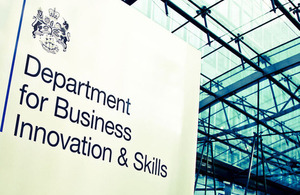 The former director of employment business WHG Offshore LTD has pleaded guilty of failure to pay a work-seeker after the firm went into administration in 2012.
The prosecution was brought against Andrew Hayter by the Employment Agency Standards (EAS) Inspectorate, part of the Department for Business, Innovation and Skills, and was heard at Oxford Magistrates Court.
The complainant, Victor Apiafi, a hydrographic surveyor of Plymouth, began work through WHG Offshore in 2011, but experienced pay problems towards the end of 2012. WHG Offshore went into administration in December 2012 after one of its customers, for whom Mr Apiafi worked, went into liquidation and was unable to pay WHG Offshore money owed.
At this point the complainant was owed around £15,000 in unpaid wages. Attempts were made by EAS to resolve the failed payments and avoid a court hearing but no payments were made.
In court on 27 January 2015, Mr Hayter pleaded guilty to 2 charges in relation to the non-payment of wages, with a further charge withdrawn. He had previously pleaded guilty to 3 charges concerning the terms of contract between WHG Offshore and the complainant not being compliant with the current legislation. The court imposed fines totaling £600, with a victim surcharge of £15. Mr Hayter was also ordered to pay £6,500 in compensation to the complainant, as well as a contribution of £5,000 towards legal costs.
Employment Relations Minister Jo Swinson said:
It is totally unacceptable for an employment business to withhold payment to a work-seeker, who completes his side of the agreement by completing the work he was asked to undertake.

This outcome should remind employment firms that they cannot simply decide not to pay a work-seeker because they haven't been paid by the hiring company. It also shows we will take the strongest form of action where appropriate and should serve as a warning to anyone who abuses their position.

A well run flexible private recruitment sector plays an important role in ensuring that the UK's labour market works effectively. It is essential that employment agencies operate within the law.
Notes to Editors:
1.'Agency' is a term used to cover both 'employment agencies' and 'employment businesses'. An employment agency introduces a worker directly to their ultimate employer who pays them directly. An employment business employs and pays the worker and hires them out to work for a third party, the 'hirer', who pays the employment business for the service. WHG Offshore was an employment business.
2.Mr Hayter faced 2 charges of withholding payment to a work-seeker for work that had been undertaken, contrary to Regulation 12 of the Conduct of Employment Agencies and Employment Businesses Regulations 2003. He also faced 3 charges relating to Regulation 14 of the Conduct Regs, for failing to include in his terms that WHG:
was operating as an employment business
was not including an undertaking to pay work-seekers for hours worked, whether or not WHG were paid by the hirer
was not including the minimum rate of remuneration that was expected to be achieved
A further charge of withholding payment was withdrawn on public interest grounds, having regard to the guilty pleas that were entered for the other charges.
3.The Employment Agency Standards (EAS) inspectorate is part of the Department for Business, Innovation and Skills and enforces the legislation. The inspectorate carries out inspections of agencies on the basis of perceived risk of non-compliance and investigates complaints about agency conduct. The case was prosecuted by the Department for Business, Innovation and Skills' Legal Services Directorate.
4.Agencies that break the law could face prosecution and be subject to unlimited fines for the most serious offences. Rogue agencies could also be banned from operating for up to 10 years.
5.Guidance and further information about the requirements for employment agencies can be found at Employment agencies and businesses.
6.Anyone who wishes to make a complaint about the conduct of an employment agency or seek further information can contact the Pay and Work Rights Helpline - 0800 917 2368.
7.The EAS produces a list of prohibited people who have been banned from running an employment agency or business due to misconduct or unsuitability. The list can be accessed at 'Making the labour market more flexible, efficient and fair'.
Published 29 January 2015