Successful graduate support scheme secures future with additional £4 million funding
West Midlands European Regional Development Fund Programme Business entrepreneurs emerging from West Midlands universities will continue to…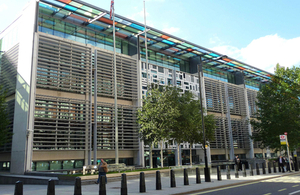 West Midlands European Regional Development Fund Programme
Business entrepreneurs emerging from West Midlands universities will continue to be able to access vital support to get a new business venture off the ground, with the announcement of an additional £4million investment to support the programme over the next 3 years.
Following on from the success of the SPEED WM programme, phase 2 called SPEED Plus will provide 600 graduates and students with the opportunity to access tailored advice and support focussed on how to get a business idea off the ground.
The programme is supported by just over £2 million from the European Regional Development Fund, which is managed by the Department for Communities and Local Government and matched by five West Midlands universities - the University of Wolverhampton, Birmingham City University, Coventry University, Keele University and Staffordshire University.
Communities Minister Baroness Hanham CBE said:
Retaining graduates and the valuable skills they hold, by helping them to take forward creative entrepreneurial business ideas is really important for the future of the local economy. It is vital that we are able to recognise the success of support programmes such as this and offer additional funding to ensure they continue for the benefit of future graduates and students.

We are looking for future entrepreneurs with great business ideas to come forward and size the opportunities that this project provides, helping to bring their ideas to life and turn them into profitable new businesses.

I am delighted that we have been able to play our part in securing the future for this important programme.
Steve Moore, Deputy Director Graduate Enterprise from The University of Wolverhampton said:
We are delighted that we will be able to support more and more young people from our partner universities in launching their future business careers.
SPEED WM which was originally launched in 2009, has proved to be a valuable support service, helping 562 graduates and students explore and take forward enterprise ideas over the last 3 years. Mike Chinn and Matt Weston set up Stone's Throw Media with the assistance of the programme. The video production company based in Wolverhampton, believe that;
Without the assistance of SPEED WM we would never have started up this business or have progressed as quickly as we have with all of the support that we have received. SPEED WM is a really important asset to students and graduates who want to start up a business.
To find out more about phase 2 of the programme, contact Sarah Taylor at the University of Wolverhampton on speed@wlv.ac.uk or visit www.speed-plus.org (external link).
Further information
The Department for Communities and Local Government is the managing authority for the European Regional Development Fund (ERDF) Programme which runs from 2007 to 2013. This is one of the funds established by the European Commission to help local areas stimulate their economic development.
The West Midlands European Regional Development Fund Programme has been allocated 400 million euros to invest in projects which will support local businesses and create jobs.
In the West Midlands the priority areas and themes are:
Innovation and Research and Development
Increasing investment in research and development through helping businesses take forward new innovation, sharing of knowledge and developing and demonstrating new technology
Enterprise Development
Increasing business performance through supporting high growth businesses, improving resource efficiency, providing access to finance and developing a strong entrepreneurial culture
Sustainable Urban Development
Improving the performance of key urban areas through regenerating local areas, encouraging investment and new businesses, creating job opportunities and helping communities most in need
Inter-Regional Activity
Working with European partners to learn and improve, share and apply best practice and solve problems
For more information follow us on Twitter at www.twitter.com/erdfwmnews (external link).
Contact Lynsey Cooke, Communications Manager on 0303 444 6587 or email lynsey.cooke@communities.gsi.gov.uk.
Published 6 November 2012