World news story
Successful DataBootCamp in Uruguay
The event took place on March, sponsored by the British Embassy in Uruguay.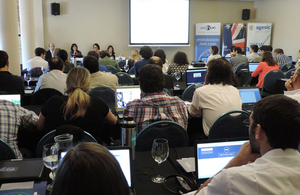 Uruguayan journalists, programmers and developers participated in the first DataBootCamp, an intensive workshop which sought to improve their professional skills and show them the newest tools and techniques to find, extract and analyse public data.
The DataBootCamp was organised by the Uruguayan Agency of Electronic Government and Information Society (AGESIC), along with the British Embassy, the World Bank Institute, the International Center for Journalists and PinLatam.
As a result of this workshop, various teams are already working on the development of more than eight applications to manage public data. This year's winning application was Quién Paga (Who Pays) which received 2000 dollars for its further development. The idea of the app is to be able to visualise how much money is being spent in Uruguay by the different political parties during election year.
Additionally, and as a result of the DataBootCamp, Uruguay will organise its first Hacks/Hackers event this year. In doing so, Uruguay will become part of an international movement which is gaining more and more relevance and importance worldwide. Hacks/Hackers' objective is to take full advantage of the immensity of available data that can now be found and use new technologies to make them more interesting and appealing for people.
Published 17 March 2014