Success boosts Brit-trained Afghan soldiers
British troops operating in one of the most contested areas of Helmand province are celebrating the success of the first major mission to be carried out, independently, by the Afghan soldiers they train.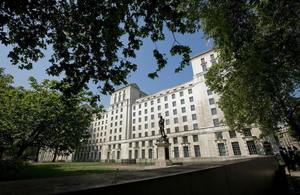 After more than five months operating alongside the 4th Tolay of 3/215 Brigade of the Afghan National Army (ANA) in southern Nad 'Ali, British soldiers from 1st Battalion The Royal Irish Regiment (1 R IRISH) were able to watch with pride the Afghan warriors they train successfully plan and execute a company-level operation for the first time.
Operation TORA GHAR 15 saw the 4th Tolay, a company-sized unit, clear a route of improvised explosive devices (IEDs) and cause serious disruption to insurgent activity in the village of Zangal.
Having already carried out smaller, section-level patrols in support of British-led operations, this was a big, if natural, step forward for the Afghan warriors. It saw the Afghan troops storm a one-time hotbed of insurgent activity.
The ANA's counter-IED specialists cleared a high-threat route, setting up fire support positions for the rest of the company to apprehend insurgents and search suspicious compounds.
The tolay's commander, Captain Mustamand, led his troops from the initial briefing, translating meticulous planning into positive results.
Soldiers from C Company, 1 R IRISH, played a supporting role, temporarily manning checkpoints to free up ANA manpower, but played no part in the actual operation.
The operation's main objective was to increase the local population's confidence in the ANA and show those involved in insurgent activity the ANA's strength and domination over the area.
Captain Mustamand commanded and controlled the situation throughout, and his warriors gained further experience and confidence in their abilities.
While there is still more work to be done on the development of the Afghan troops, the Royal Irish troops are confident that their recent successes have demonstrated good progress.
Captain Mustamand said:
My men have developed real confidence working alongside the Royal Irish soldiers. They have learnt the skills necessary to operate independently, including IED detection, first aid and patrolling tactics.

Now we have the opportunity to operate independent of ISAF, it was an honour for me to lead my warriors on our first tolay-level operation. We knew that ISAF could bring reinforcements or helicopters if we needed them, but I am proud to say that we completed the operation unaided.
Major Alistair Harbison, Officer Commanding C Company, 1 R IRISH, said:
The ANA have come on in leaps and bounds in our area over the last five months. There was a time when they were reluctant to even go out of the gate unless we had our troops on the ground too, but it's hard to believe that now.
Published 23 March 2011