News story
Stunning jewels at risk of leaving the UK
Export bar placed on early 19th century jewellery bought by the Prince Regent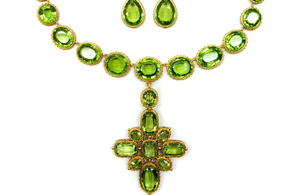 Culture Minister Ed Vaizey has provided a last-chance attempt raise the £150,000 needed to keep a beautiful set of gold and peridot jewels in the UK.
The jewellery suite was bought by the Prince Regent in 1816 as a gift to one of the Dowager Countess of Rosslyn's two nieces, Charlotte and Lucy Coates, to be worn at the wedding of Princess Charlotte and Prince Leopold of Saxe-Coburg, though its fascinating history dates back to two years earlier.
It is still in its original box with a hand-written note from Princess Elizabeth. They are thought to be incredibly rare as most sets from this era have been dispersed among generations over time. An invoice for the suite to the Prince Regent from jewellers Rundell, Bridge and Rundell is in the Royal Archives.
Royal connections
Ed Vaizey decided to defer granting an export licence for the jewellery following a recommendation by the Reviewing Committee on the Export of Works of Art and Objects of Cultural Interest (RCEWA).
The Culture Minister said: "This stunning set of jewellery, along with its documents, association with the Royal wedding and its renowned maker, is of great importance for the study of the history of jewellery, and I hope a UK buyer comes forward to secure it for the nation."
Those interested in purchasing the jewellery have until 1 July to do so. This may be extended until 1 October for those showing serious intention to buy.
Further information
Published 2 May 2013