News story
Students challenged to design audio and visual tools to improve travel for blind and deaf bus passengers
Tech-savvy pupils asked for ideas in All Aboard competition.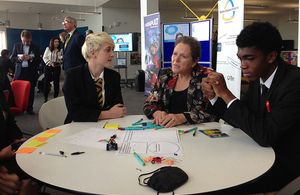 Transport Minister Baroness Kramer today (24 October 2014) launched a competition for students aimed at devising new ways to make bus travel easier for people who have visual or hearing impairments.
Passengers can find it difficult to identify the number or destination of their bus, know where and when to get off or hear important on-board announcements. The competition is being run by the government-funded organisation Transport Systems Catapult and was launched by the minister at a school in Milton Keynes, where pupils are taking part.
Students compete to help visually impaired and deaf bus passengers
Baroness Kramer said:
Audio and visual announcements on buses are especially helpful for those who are visually or hearing impaired.

We want to tap into the creativity we know is alive and kicking in our classrooms to find ways in which we can make local transport more accessible. Disabled people have the same rights as anyone else to access public transport, but there remain obstacles. I am open to any ideas that could make buses more user-friendly, for the many passengers who rely on them.
Research shows that the perceived high cost of existing technology has been cited as an obstacle by bus operators in parts of the country that do not currently provide audio visual information on buses.
It is hoped the competition will deliver ideas that can be turned into cost effective systems for keeping passengers informed.
The All Aboard competition is part of the government's Accessible Britain Challenge which encourages communities to be inclusive and accessible. It involves working with disabled people to remove the barriers that stop them participating fully in their community.
The competition is open to all school children aged 14 to 18. The winning technology designer will receive a cash prize of £1000. They will also have the chance to work with local businesses and see their idea turned into a product, as well as going on a tour of the House of Parliament with Baroness Kramer.
News desk enquiries
Press enquiries 020 7944 3021
Out of hours 020 7944 4292
Switchboard 0300 330 3000
Published 24 October 2014