Stronger action to tackle human trafficking
A new strategy which puts support for victims of human trafficking at its core was launched today by Immigration Minister Damian Green.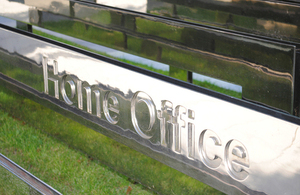 Key measures:
a review of the current legislation to ensure that traffickers receive appropriate penalties for their crimes
a targeted focus on the countries that are a major source of trafficking and raising of awareness among potential victims
extending the use of current powers to seize the profits of traffickers and make it less attractive
establishing closer relationships with overseas law enforcement agencies to carry out joint operations across borders
The new National Crime Agency (NCA), on its establishment in 2013, will build on and enhance these capabilities to ensure that we crack down on organised trafficking gangs.
Immigration Minister Damian Green said: 'We are sending a message that the UK is not a soft touch for traffickers.
'We will pursue and disrupt trafficking networks overseas wherever possible to stop them before they ply their trade in the UK and then bring them to justice.
'These measures along with improved victim care arrangements will ensure that all victims - adults and children - receive care tailored to their specific needs.'
The strategy strengthens the support for adult victims of trafficking.  The Salvation Army will be providing a service tailored to their needs as part of a £2 million a year allocation.  The strategy also contains a specific section on the protection of child victims of trafficking building the role of Child Exploitation and Online Protection Centre (CEOP).
Peter Davies, chief executive of the CEOP, said: 'Child trafficking is a terrible crime and can have devastating consequences for those affected.
'This commitment to enhance the coordinated efforts of law enforcement, government and the wider child protection community is a major step forward, as we all strive to improve the level of support to vulnerable and frightened child victims.'
Notes to editors
1. Read the strategy on this website
2. An average figure of the numbers of trafficked children taken from the last two years of CEOP assessments (2009 & 2010) provides an estimate of approximately 300 trafficked children identified in the UK per annum.
3. Estimating the numbers of adults and victims trafficked into the UK is difficult due to the hidden nature of this criminal activity, but according to figures published by the Association of Chief Police Officers (August 2010) at least 2,600 victims had been trafficked for sexual exploitation in 2009.
4. The UK's multi-agency victim identification and support National Referral Mechanism data from 1st April 2009 - 31 December 2010 identified 1,254 potential victims, including 322 potential child trafficking victims (this is a cumulative figure). The list below shows the top five highest represented countries:
Nigeria
China
Vietnam
Slovakia
Czech Republic
Published 19 July 2011