Strengthening ties between the UK and Morocco
Foreign Secretary William Hague met Moroccan Foreign Minister Fassi Fihri in London on 10 March.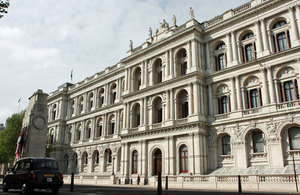 Speaking after the meeting the Foreign Secretary said:
"I am committed to strengthening the UK's ties with Morocco. Minister Fassi Fihri and I have agreed to establish a "bilateral partnership agenda" between our two countries. This will provide an excellent framework for improving co-operation between our two nations across a range of shared priorities.
"We discussed the speech delivered yesterday evening by His Majesty King Mohammed VI. I welcomed the King's bold commitment to intensifying and quickening the pace of political and economic reform; his commitment to strengthening the independence of institutions and to engaging with the concerns of Moroccan society.
"We also shared views on the situation in Libya: I explained the UK's continuing concern about the unacceptable conduct of the Qadhafi regime and set out the activity we are undertaking to increase pressure on Qadhafi and those around him".
Published 10 March 2011