Strengthening the UK's ties with Asia
Foreign Secretary William Hague will visit South East Asia and India from 5-8 November 2012.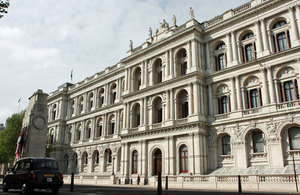 On a visit that encompasses Vientiane, Bangkok and Delhi, the Foreign Secretary will open a new British Embassy in Laos and represent Britain at the 9th Europe-Asia Summit. Throughout the visit he will promote closer UK links across the region, in culture and education, foreign policy and security and trade and investment. His visit follows the Prime Minister's own travel to the region in April this year, and 15 separate visits to ASEAN countries by Foreign Office Ministers since May 2010.
The Foreign Secretary said:
"Today Britain is looking East as never before, as Asia continues its historic economic and political transformation.
"Closer ties with Asian countries have never been more important for the UK. The ten economies of ASEAN absorb more UK exports than mainland China and have a larger combined economy than India. South East Asia is home to several of the world's fastest growing economies. The steps we are taking to build stronger relations in the region are crucial to the UK's security and prosperity. On this visit I will be championing Britain as a home for Asian business and investment in Europe."
Published 4 November 2012