Strengthening the UK-Colombia relationship
Foreign Secretary William Hague met Colombian Foreign Minister Maria Angela Holguin at Carlton Gardens on 13 July.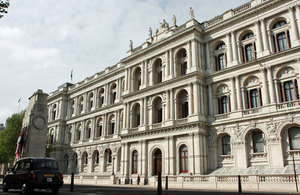 The Foreign Secretary and Foreign Minister discussed the importance of the bilateral relationship and broadening areas of co-operation. Topics covered included the forthcoming Guest of Government visit by President Santos to the UK, the UK and Colombia working as partners on priority UNSC issues, as well as progress on the human rights situation in Colombia.
Speaking after the meeting, the Foreign Secretary said:
"This Government is working hard to strengthen our relationship with Latin America, an area of the world that has been neglected for far too long in recent decades. Colombia is an important partner in this region, not just in our efforts to tackle organised crime and the drugs trade, but also in addressing global challenges, like climate change and international security. We enjoyed a productive discussion on these issues.
Both the Foreign Minister and I also agreed that levels of trade between our two countries had not yet reached their full potential. There are many areas where the UK has expertise that Colombia is keen to learn from, such as on Public and Private Partnerships, and we are keen to build a broader partnership on education. Our Governments will work together to ensure that our developing relationship maximises the new and mutually beneficial opportunities for UK-Colombia cooperation that arise."
Published 13 July 2011