Strengthening the UK-Canada relationship
Foreign Secretary William Hague met Canadian Foreign Minister John Baird in London on 25 January.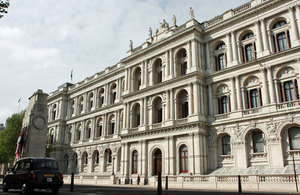 Speaking after the meeting the Foreign Secretary said that the UK and Canada are aligned in many ways:
"Our discussions have covered a whole range of global issues particularly focusing on events in the Middle East and the Horn of Africa. I've been explaining the purpose of our conference on Somalia that we will hold in London in a few weeks time.
We discussed the situation in Syria, the danger to international peace and security of Iran's nuclear programme, we also discussed events further afield including in Afghanistan and Pakistan. We discussed the situation in Haiti.
We looked at how to cooperate even more closely on foreign policy over the next few years and discussed how to boost world trade at a difficult economic time. We would like to see a trade agreement concluded between the European Union and Canada and the United Kingdom is a very strong advocate of that.
So I think we have had some excellent discussions as always. We work together closely in the Commonwealth and we've talked about how to continue to do that in order to bring about certain reforms within the Commonwealth."
On Iran the Foreign Secretary said:
"We have passed this week in the European Union an unprecedented set of sanctions because we want a peaceful resolution of this matter and we will apply those sanctions rigorously whilst simultaneously continuing to offer negotiations on Iran's nuclear programme.
There were threats from Iran a few weeks ago to close the Strait of Hormuz. At the weekend a US carrier group passed through the strait with a British warship and a French warship attached to it, that is a routine movement but it underlines our commitment to freedom of navigation and to those international waters being open. So we appeal again to Iran to negotiate meaningful about their nuclear programme, that is the way forward. In the absence of that we will continue to step up the sanctions and the economic pressure on Iran."
On the Arab League's monitoring mission in Syria he said:
"We commend the work of the Arab League and the European Union. This week we widened the range of sanctions on Syria to twenty two more individuals and eight further entities. I've said I think it's long overdue for the UN Security Council to speak together on this issue and I hope we will be able to do so fairly soon."
Published 25 January 2012