Strengthening the relationship between the UK and Iraq
Minister for the Middle East Alistair Burt is visiting Iraq. He is the first Foreign Office Minister to visit Iraq since the UK Coalition Government took office in May.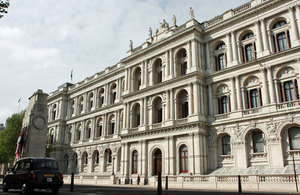 During his two days in Baghdad, the Minister met HE Mr Hoshyar Zebari, Minister of Foreign Affairs Usama al-Nujaifi, Speaker at the Council of Representatives and Deputy Minister of Defence, General Mohan.
He also met Deputy Prime Minister Rafi Al-Issawi, Ibrahi Jafri - a senior Shia politician and Thamir Ghadban, the Prime Minister's chief economic and energy adviser.
He discussed Human Rights, Iraqi culture and security issues today with prominent civil society representatives and attended a business reception for Iraqi and UK companies in the evening to encourage further commercial links between the two countries.
Speaking ahead of the visit, the Minister said:
"The UK is committed to a stable, prosperous and democratic Iraq. This is in the interests of the Iraqi people, the wider region and the UK.
We already have a strong relationship and we want to develop this further across a wide range of issues. We hope to co-operate closely in a range of areas, including strengthening economic and commercial ties, improving our defence relationship, and expanding cultural and educational relations."
The visit starts less than two weeks after Iraq made progress towards forming a government by agreeing a President, Prime Minister and Speaker of the Council of Representatives. Speaking after the agreement, the Foreign Secretary William Hague described it as a "significant step forward" for Iraq, and went on to say:
"I now urge Iraq quickly to complete the process of forming a government that represents all Iraqis".
Published 23 November 2010